What It's Like To Be a Santa Clarita Dentist
Imagine it's a late night in Santa Clarita, CA (or maybe Valencia, Canyon Country, Stevenson Ranch or Saugus, who knows?) and you find yourself asking your Siri a question "What is the best emergency dentist near me?" or "What is a good kids dentist near me?". Aesthetic Dental & Specialty Center might be one of the options that your virtual personal assistant provides to you. And there is a good reason for that. Read on.
What's it like to be a dentist in Santa Clarita? Dr. Pedram Soleimani knows because he has been doing cosmetic, restorative and implant dentistry in Santa Clarita for the past five years. His reviews on Yelp, Google+ and YouTube speak for themselves, showing that his patients consider him to be the top dentist in Santa Clarita and surrounding areas.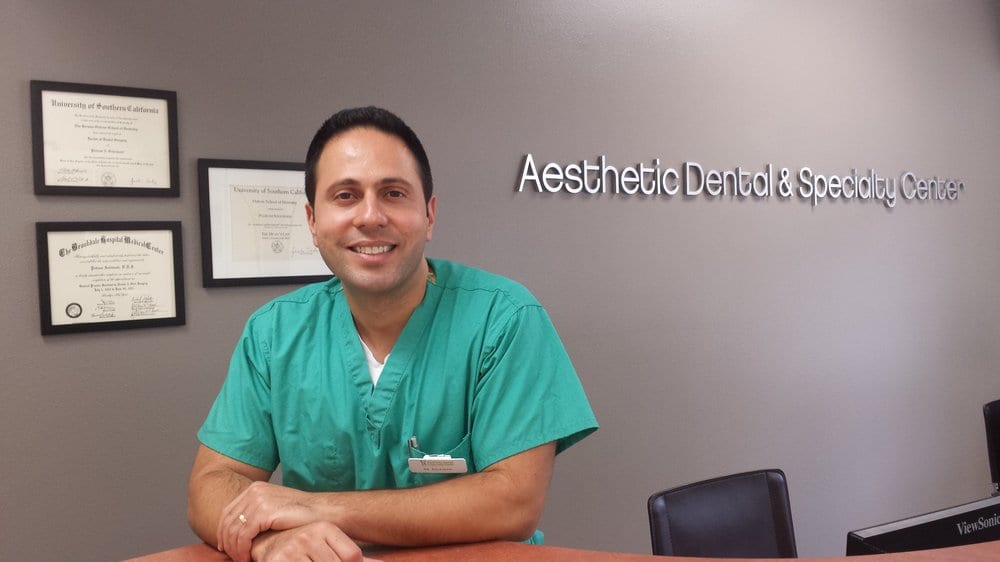 Dr. Soleimani has been specializing in making the smiles of residents of Santa Clarita, Valencia and Canyon Country the best that they can be through modern, state-of-the-art dental technology. He is acutely in tune with his patient's needs. Working on someone's mouth isn't just about fixing their teeth, it's about giving them confidence. Dr. Soleimani uses a wide variety of dental techniques to correct misaligned teeth, fix discoloration and replace or repair broken structures.
"One of the most common problems that Santa Clarita residents seek treatment for at Dr. Soleimani's office is tooth decay syndrome. This is a situation when acid is produced from plaque, which builds up on your teeth. If plaque is allowed to build up, it can lead to further problems, such as dental caries (holes in the teeth), gum disease or dental abscesses, which are collections of pus at the end of the teeth or in the gums."
Creating the perfect smile is about getting to know the patient, learning about their lifestyle, their background and their future dreams. While a root canal and crown might be right for one patient, dental implants may be better for another. In Santa Clarita, dentists and patients alike know Dr. Soleimani as a responsible and professional dentist. His patients love his versatility in being able to understand their individual needs and his innate ability to make them comfortable. For instance, he offers his patients the choice of conversing in English, Spanish or Hebrew, which is a true benefit to those who are not native to America. But being a popular dentist in Santa Clarita, California or anywhere else doesn't come easy. His patients rave about his timeliness and bedside manner, two important qualities that are not often seen in a dental office. He takes pride in doing quality work, keeping up with the latest innovations in the dental industry and relishing the human aspect of caring for his patients on a different level then simply being their dentist.Here is a letter of one of many happy patients that Dr. Soleimani received not so long ago:
"Hi Dr. Soleimani, I wanted to take a moment and tell you a quick story of what took place as I was entering a store today. I am going to guess you know how the Salvation Army stands outside stores during this Holiday–ringing their bell and hoping for donations. Well, I was going past one and he said Merry Christmas. (I am currently in the Chicago area for this special Holiday). I replied back that I would stop on my way out and I went on to smile at him and tell him Merry Christmas. He looked at me and told me what a beautiful smile I had and that it warmed his heart. He said my smile made his day–but, he had no idea just how his comment on my smile made MY day! I went into the store feeling so wonderful! I wanted to share this with you as you are the one that made that possible. (You and your staff). That man could have chosen anything to say to me–yet, he chose to say something that has so much meaning to me. I can smile without embarrassment now. That feels so great to me!!
And, I thank you for making that possible. 
I hope that you and your family have great Holidays!!!"

~Donna
Dr. Soleimani's professionalism shines through in everything he does. He is an active member in the American Dental Association, American Academy of Cosmetic Dentistry and the California Dental Association. Becoming a top-rated dentist in Santa Clarita takes a lot of hard work. Dr. Soleimani attended dental school at the University of Southern California where he made the Dean's List and graduated with the top of his class.
Originally from Israel, living a short time in Italy and then moving to Los Angeles, he fell in love with Southern California where he has now lived for over 25 years. With a plethora of communities to choose from, where to settle his practice was a tough decision to make. His first two year residency was spent helping Veterans at the University of California, Los Angeles, Veterans Affairs Medical Center. There he was able to hone his techniques in everything from cosmetic to dental surgery. His second residency took him to Brooklyn Hospital in New York where he spent one year specializing in advanced surgical dentistry. It was then that he realized his love for California and made his decision to return. He went back to Southern California, working in unison at both the Veterans Affairs Medical Center and UCLA specializing in advanced cosmetic and implant work.
His favorite part of being a dentist is helping patients to achieve the results they want and the satisfaction of creating beautiful smiles. Some patients lives are changed so dramatically from the time they enter the office until their treatments are complete.
When a client comes in that has suffered a tragedy from an accident or collision, it's clearly understandable how devastating it can be for them, both emotionally and physically. To regain their former appearance can be a long and sometimes painful journey. Dr. Soleimani offers comfort and reassurance with his knowledge, experience and a commitment to his patients.
When searching for a permanent office, Dr. Soleimani did his homework. He was looking for some place where he could make a difference and call home. Establishing his dental office in the oldest part of downtown Santa Clarita offered culture, charm and a unique location. When he opened his practice there in 2014, he was the only dentist in the old town area. He felt a parallel with the city's roots, offering beauty to his clients in a gorgeous setting. The area around his office is developing at a fast pace, with new restaurants and shopping popping up all around him. There is a wonderful opportunity for clients to explore the neighborhood before and after their appointment, scheduling appointments around lunchtime and meeting friends afterwards to show off their new smile.
Dr. Soleimani's dental office is centrally located at 24264 Main Street in Santa Clarita, less than a half mile from many great restaurants, such as the local favorites of Newhall Refinery Gastropub or EggPlantation. His Santa Clarita dentist office is also close to public transportation, with the Metrolink Train Station and bus stop less than a mile away. Of course, patients also have door to door access with Uber or Lyft as well. There is a free private parking lot for those who wish to drive themselves and free street parking is available during business hours. Making an appointment is as easy as visiting Dr. Soleimani's website and clicking the appointment button. If you're on a cell phone, the call button that will do the dialing for you. There's even a chat function with a live person ready to answer your questions during business hours and an Emergency button linking directly to 24 hour help.
Here is what a typical day of a Dr. Pedram Soleimani looks like:
8 AM – Office opens one person in front checking patients… and other staff in back for huddle. Front desk and back office staff huddle meeting go over any concerns from the day before.. and also go over the day schedule.
9 AM – Office staff start seating patients. They try to get patients in pain or dental emergency case in first.
Each hour after 9 AM Dr. Soleimani and other dentists in the office see one new patient per hour.
All patients coming in as new patient exam or for dental treatment are walked into their treatment room and are started with a refreshment. After that, the patients are seated comfortably. The next thing is their blood pressure is taken and their medical history is reviewed by the dental assistants. After this preliminary check, the patient's chart is presented to the treating doctor.
Cosmetic, Implant and Restorative dentistry (Dr. Soleimani)
Root Canal specialist (Dr. Hirt)
Braces (Orthodontist) (Dr. Couto)
All on 4 implants (Dr. Warda)
Wisdom teeth (Dr. Senehi)
Dental hygienist (Mr. Brian)
After the each treatment all rooms are wiped down with special disinfectants and all instruments go for 2-step sterilization, cold followed by autoclave unit.
After each treatment patients are walked out to the front desk by their personal dental assistant that has been assigned to them for that day and the front desk will take over to setup patients next appointment and prescriptions.
All patients receive a courtesy text reminders before their appointment. All patients that go under treatment by one of the dentists receive a follow-up call to see how the patient is feeling after treatment.
Every day Dr. Soleimani's office keep open appointments for patients with any dental emergency for same day appointments or emergency dental walk-in patients.
When people think of a dentist office, they imagine a stark and sterile office filled with terrified patients. Not in the office of Dr. Soleimani. This Santa Clarita dentist is very different. His assistants are bright and cheerful, putting all of the clients at ease. People come from all around the Los Angeles area specifically to see the best dentist in Santa Clarita because Dr. Soleimani is knowledgeable and caring, and that caring comes through in every conversation, every procedure and every smile. The average age of his clients is mid-40's, a time when they are looking to reinvent themselves or solidify their dental health as they age, but he offers services to patients of all ages, ethnicities and backgrounds. His clients are from all walks of life, from ballet dancer to school teacher.
Dr. Soleimani is known as the "quarterback" of the office, guiding the team through each patient treatment with the same dedication he would use with his own family. Each day patients express their gratitude and wonder about how well trained the staff is and how any situation, no matter how stressful, is handled with such precision and professionalism.
Dr. Soleimani's team is a well-oiled machine and that comes from internal training, communication and caring. This internal training is a top priority for Dr. Soleimani to ensure consistency in care and quality. With a staff of nine people working in the front and five doctors in the back, it's important that each cog in the machine is working in unison. No job is too small or task too unimportant and each must be handled with the utmost efficiency. Dr. Soleimani works diligently with each member of the team to ensure that they get the proper training necessary to put the patients at ease and make their experience as pleasant as possible. For the staff, dental education gives them only a basic sense of the skills needed in a dentist office. It's the joint effort of Dr. Soleimani and the rest of the medical professionals in the office to teach them important interaction points such as chair side manners and how to properly speak with patients without being intrusive or imposing. This teamwork really sets this Santa Clarita dentist office apart from the others.
From the moment the appointment is made, each patient receives individual care tailored specifically for them. The receptionist knows who and when the next person will enter the door. They are greeted immediately and usually ushered to a private room after a short wait or made aware of any delays. The Dental Assistant is the next person to visit the patient, gathering necessary information such as the reason for their visit, any concerns they may have, generally welcoming the patient and reassuring them that they are in the best hands. The patient's blood pressure is checked and their medical history, including allergies, is thoroughly examined. The Dental Assistant must be thorough, not missing a single detail to keep the patient safe. Once the overview is complete, the Dental Assistant then meets alone with Dr. Soleimani, briefing him on all of the details he will need before meeting with the client himself.
Meeting with a patient the first time, it's important to give a lasting impression, one based in trust, caring and reassurance. This is easy for Dr. Soleimani. He is incredibly personable and you can tell from the moment you first speak to him that his patients and their wellbeing are his main concern. Being a detail-oriented doctor and team head, it is Dr. Soleimani's job to ensure that everything is covered. He starts with the basics and runs through the entire gamut of options allowing the patients to choose the course that's best for them. Since treatment and pricing options vary, it is always the ultimate decision of the patients which line of treatment they will follow.
The length of the treatment depends on the severity of the correction. Some procedures take only a few office visits while others may last up to a year. Although every procedure is satisfying, Dr. Soleimani finds an epiphanic moment when someone who has been traumatically injured sees their smile for the first time in the mirror after treatment is complete. Some people are so moved by the outpouring of happiness and emotion that they cry uncontrollably when they see their reflection. This moment washes away all of the pain, time and anxiety. The struggle to arrive at this ultimate achievement is all worthwhile.
Once the initial treatment plan is agreed upon between the patient and doctor, it's time for the Treatment Plan Coordinator to meet the patient. A specialist in their field, the Treatment Plan Coordinator understands timelines, procedures, costs and insurance like the back of their hand. Several options are offered with the ultimate goal of making the procedure seamlessly work into the life of the patient. A financial plan is also put into place so there are no surprises along the way. Aside from being a specialist in treatment planning, the Treatment Plan Coordinator is also a whiz at insurance, giving the patient piece of mind knowing the full price paid through insurance and what is expected out of pocket before approving the procedure. No unexpected rate hikes here!
One of the ways Dr. Soleimani's Santa Clarita dental office differs from other dental offices is the on-site equipment used for diagnosis. The office is loaded with state of the art technology that allows special diagnostics beyond the usual dental office. With an all digital x-ray in place, each patient is non-invasively scanned for run of the mill dental problems, such as holes, cavities and pockets. The digital x-ray machine is capable of taking imagery at all angles for comfort as well as convenience. For more complex cases, there is a 3-D CT Scanner where the x-ray technician hones in on fine points within the overall picture in order to pinpoint weaknesses. The CT Scanner can create panoramic views of the skull giving the team of doctors a greater field of possibilities with which to work. The machine is capable of performing a Lateral Cephalogram, imagery that covers everything from the neck to the top of the skull, revealing inconsistencies within the hard and soft matter. This technology is key to finding vertical bone fractures in teeth, something not found in a regular scan.
In some cases, blood work is needed to ensure the health of the patient before putting them through any kind of procedural risk. Even though many procedures are simple and patients are healthy, it's also sometimes necessary to clear some treatments with cardiologists, oncologists or other specialists as well as the patient's primary care physician. Once confirmed healthy, the schedule is put into the calendar and the journey begins. It's helpful to take before and after photos to see the drastic or subtle changes due to treatment. Photos are also at taken at different stages to offer a perspective of the progression of the work. Such a timeline reinforces and encourages the patient, especially if the reconstruction is considerable.
Quite often, there will be multiple doctors involved in the treatment plan for a single patient. The team of doctors at the Santa Clarita dental office includes five specialists, each one a leader in their field. As a Board Certified Orthodontist, Dr. Crystiane Couto D.D.S. has dedicated the past seventeen years of her life to creating beautiful smiles through creative and industry-leading techniques. Dr. Edon Hirt is the office Endodontist and specializes in Root Canals. His goal is to save endangered teeth, get the patient out of immediate pain and keep the patient as comfortable as possible. For those patients needing implants, including all on four dental implants, Dr. Sherif A. Warda, D.D.S., M.S. is highly skilled in complex aesthetics, smile enhancement and complicated full mouth rehabilitation. Voted as one of "America's Top Dentists of 2015", Dr. Navid Senehi, D.D.S., M.D. is an exceptional surgeon specializing in Oral and Maxillofacial Surgery, focusing on wisdom teeth and implants. He also works on bone grafting, Sinus lifts and impacted teeth. Dr. Soleimani rounds out the team with his extensive knowledge in Aesthetic Restorative and Implant dentistry.
In case you don't know what "all on four dental implant" is here is some information: there are four precisely placed implants on the top of your mouth, and four on the bottom, to restore your full smile. The implant is made of titanium. Because of this it has the unique ability to fuse to living bone and function as part of it. So eventually, the dental implant becomes part of the jawbone and serves as a strong, long-lasting foundation for your new teeth.
With such a fine team of doctors working together on each individual patient, the quality of care can be assured and the best results guaranteed. Each specialist is consulted one on one about the needs of the particular patient and the uniqueness of their case, creating a custom treatment plan specifically tailored to achieve optimal results. This can only happen when the staff and doctors work side by side, in complete unity, to formulate the plan through numerous meetings and their steadfast commitment to the best interests of the patient. Once treatment has begun, the doctors and staff crosscheck the work performed and cover for each other when emergencies arise. In instances where more than one doctor is working with a patient due to special or complex circumstances, it is always Dr. Soleimani who is last in line to see the patient and add the finishing touches. For example, a patient who requires reconstructive surgery must first see Dr. Senehi for the surgical portion of treatment and once Dr. Senehi signs off on his portion of the treatment, Dr. Soleimani steps in to perfect the smile through aesthetics. This type of close-knit teamwork produces stellar results.
Even for returning patients that have casual needs, sometimes there are bumps along the way. For instance, one patient called frantically saying that her dentures had disappeared and when she tried to find them, they were gone. A rush appointment was made for a new fitting and the happy patient's new smile was reordered. A few days later, she called to say she had found one-half of her dentures, but the other half was still missing. One week went by and the woman returned for her replacement. When she came in for the appointment, she seemed a little shy and reluctant to speak. After some coaxing, she told Dr. Pete that the other half of her missing dentures had been found. It seems that her dog was feeling a bit under the weather and upon taking him to the veterinarian, who called for an X-ray, it was found that the dog had swallowed the dentures. It was unfortunate that the dentures could not be saved, but after a small surgery and some stomach medicine, the dog was fine.
Part of his good nature comes through in the form of volunteer work. Giving back to the community is an important part of his life and living in Southern California, Dr. Soleimani sees many social fluctuations not found in other parts of the country. For instance, the year-round good weather creates a ripe environment for homelessness, with the homeless rate being one of the highest in the country. Dr. Soleimani is proud of his work with the Union Rescue Mission where he offers free and low cost dental services to the homeless. He is also a big advocate for teaching children the importance of good oral hygiene at an early age and, aside from his educational visits to various elementary schools in Los Angeles where he teaches oral health awareness, Dr. Soleimani volunteers at several clinics where he offers dental care for underprivileged children. As one of the AYDUA volunteers, he finds great satisfaction in helping those who are less fortunate.
Dr. Soleimani believes that education is invaluable and one way of learning is through travel. His thirst for cultural variety has taken him to Europe where he found a love for Spain and the Spanish way of life, but his favorite place to visit is his home country, Israel. With its breadth of history, architecture and cultural richness, Israel has much to offer. Israel is also popular for dental tourism, where he can talk to fellow dental professionals about new and upcoming techniques.
During his time away from caring for patients, Dr. Soleimani enjoys all of the benefits of living in Southern California. From the beautiful weather to easy access to beaches and mountains, Dr. Soleimani spends quality family time with his wife and two adorable children, traveling, skiing, hiking, fishing or simply going to the gym. He and his family love the outdoors and relish their quality time spent together. He also loves to do watercolor painting with his children. He has been painting with watercolors since he was young and had one of his works hung in a Los Angeles museum when he was in elementary school.
So next time, if there is an emergency or your kid needs to see a dentist, or maybe you are looking for the information on the cheapest way to do an all on four dental implant – feel free to reach out to Dr. Pedram Soleimani. Because now you know what it's like to be a dentist in Santa Clarita, the dentist who truly cares about the dental health of the residents of this beautiful city.
Aesthetic Dental & Specialty Center features a comfortable relaxed atmosphere. Our friendly staff and hygienists help put our patients at ease — even the most nervous ones. Our Santa Clarita dentists also provide oral conscious and IV advanced sedation for those patients who need more help to relax.
Whether you need general dentistry services or you have more complex dental needs, our expert dental team serves patients of all ages, and we accept most dental insurance.
No matter where you're traveling from — Valencia or Stevenson Ranch — Aesthetic Dental & Specialty Center is here to serve you. Take a look at the areas we serve below and schedule a complimentary consultation today!