Welcome to the
Orthodontic Center of Santa Clarita
At the Orthodontic Center of Santa Clarita, our orthodontists create beautiful smiles because they love helping others. From traditional colored braces to Invisalign, our elite dentists will help you select the best treatment for your teeth. Schedule an appointment today to see why our clients are always smiling.
Each patient's teeth and needs are different, which is why we take the time to go over all treatment options and guide you in choosing the orthodontic care for your needs. Dental care isn't just our job, it's our calling and the way we help our community. Don't just take our word for it, check out our Yelp and Google reviews and see for yourself!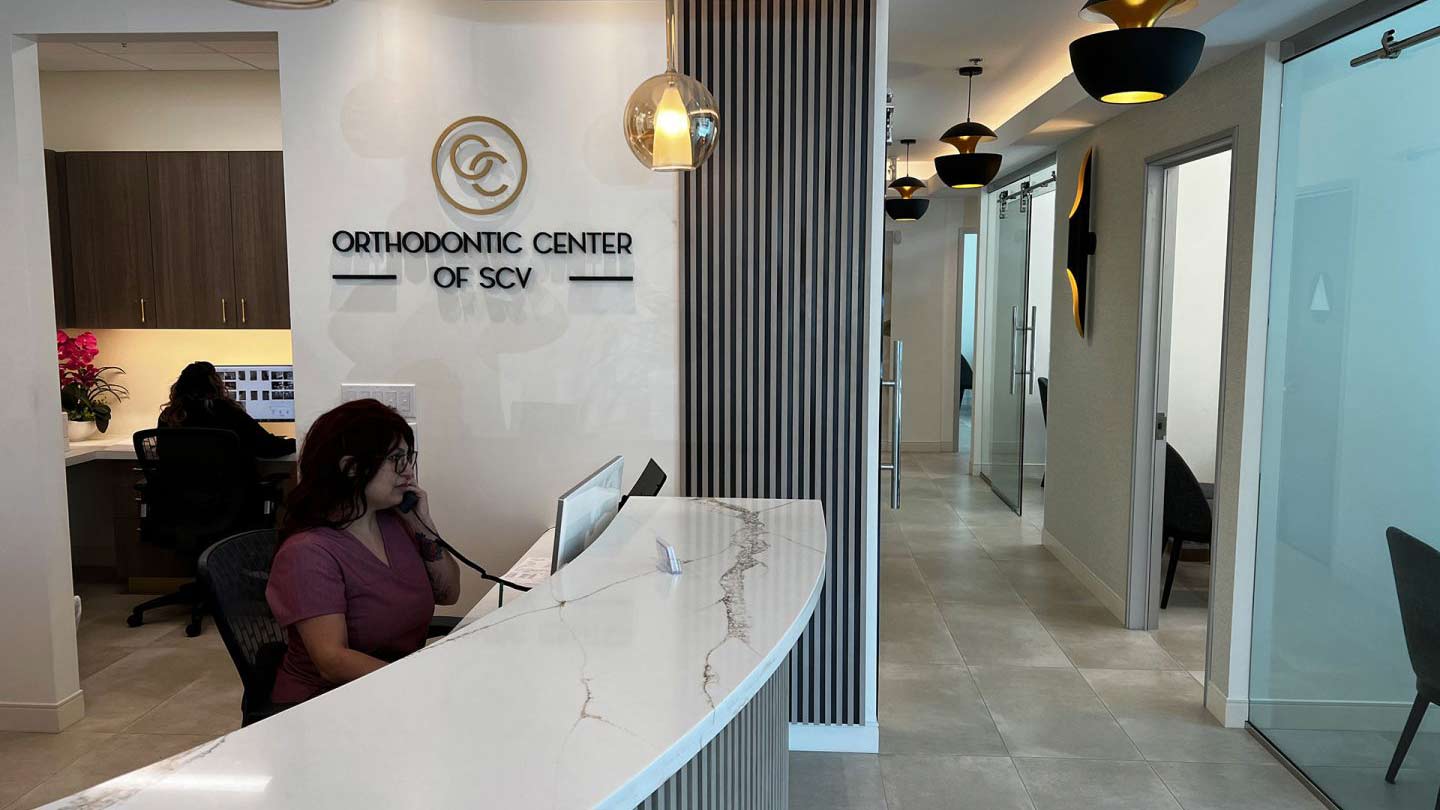 The Orthodontists At Our Practice
I like to utilize my advanced training in Aesthetic and use state-of-the-art products to beautify my patients' smile.
I take your gender, lifestyle, ethnicity, into consideration so your smile reflects who you are.
I am determined to give you the smile you deserve!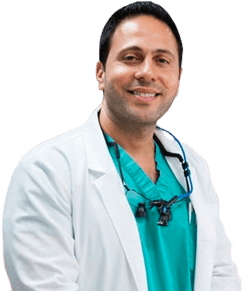 Dr. Pedram Soleimani, D.D.S.
Aesthetic Restorative & Implant Dentistry
"Orthodontics is my way of being of service. It's my place in the world of industry and trade, my place in the community. I am blessed to have the privilege to change the lives of people, often in a profound way."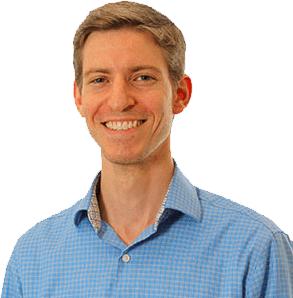 Dr. Well, D.D.S.
Board Certified Orthodontist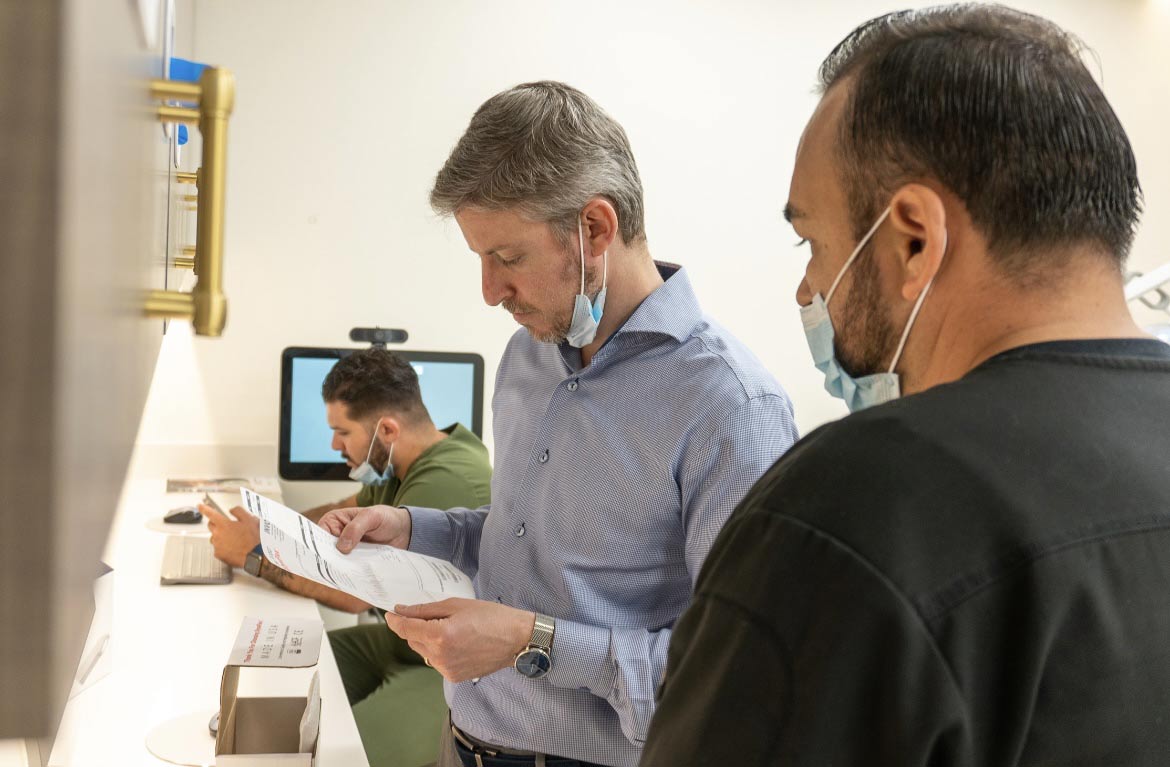 You have an excessive overbite or open bite

Overbite occurs when the upper jaw extends over the lower jaw. In the case of open bite, the upper and lower front teeth do not overlap, causing serious chewing problems.

Your teeth are spaced too far apart

Spacing problems can be caused by various reasons. Sometimes, teeth are missing or small-sized. Gum diseases, incorrect swallowing reflex, thumb sucking can also provoke teeth movements and gaps between the front teeth.

You suffer from crossbite

In case of crossbite the upper tooth or a row of teeth sits inside the lower teeth, causing tooth stratification and displaced jaw growth.

You have tongue thrusting problem

Tongue thrusting occurs when the tongue moves forward during speech or swallowing, causing misalignment and overbite. Tongue thrusting is a normal behavior in childhood. But, if this habit persists when a child grows up, the professional dental treatment becomes compulsory.

You have crowding of your upper or lower front teeth

Crowding happens when the teeth have no room to erupt from the gum and are overlapping and twisting in the mouth.

You have an underbite

Underbite occurs when the lower jaw protrudes over the upper jaw, provoking the lower front teeth to overlap top front teeth.

You suffer from thumb sucking

More often this problem occurs to children. Thumb sucking can cause the pressure on the teeth and soft tissues in the mouth, creating problems with teeth position and jaw growth. Thumb sucking can also be a reason for other dental problems in children: buck teeth, open bite, cross bite, weak chin, etc. Most children can suck their thumb without any damage until their permanent teeth appear. But, is is important to evaluate your children's oral health by age seven to discuss possible solutions if needed.
Different Types of Braces:
Colored Metal Braces
These are the most common, traditional braces, and thanks to continual improvements they are now more comfortable than ever before. Kids and teens love the option of adding colored elastics (rubber bands) for a more unique and colorful smile. Made of high-grade stainless steel, metal braces straighten your teeth using metal brackets, archwires, and spacers.
Similar to clear braces (aka ceramic braces), they adhere to your teeth until treatment ends and we use the wires to help slowly shift and straighten your teeth. Most bite and alignment issues can be treated with metal braces, making them a great selection for many patients.
Clear Braces
Clear braces, also known as ceramic braces, work the same way metal braces do but are made of clear materials and are therefore blended in with your teeth. They have larger brackets, but they blend in with teeth. When paired with clear, white, or tooth-colored wires and elastic ties they are less noticeable, making them popular among teenagers and adults who have aesthetic concerns. They're made of nearly invisible tooth-colored polycrystalline ceramic material, and some patients like to use colored ties to give their smile a unique colorful pop.
Ceramic braces are perfect if you want a treatment option that blends in but don't want to care for removable aligners and the responsibility of wear time with a clear aligner system.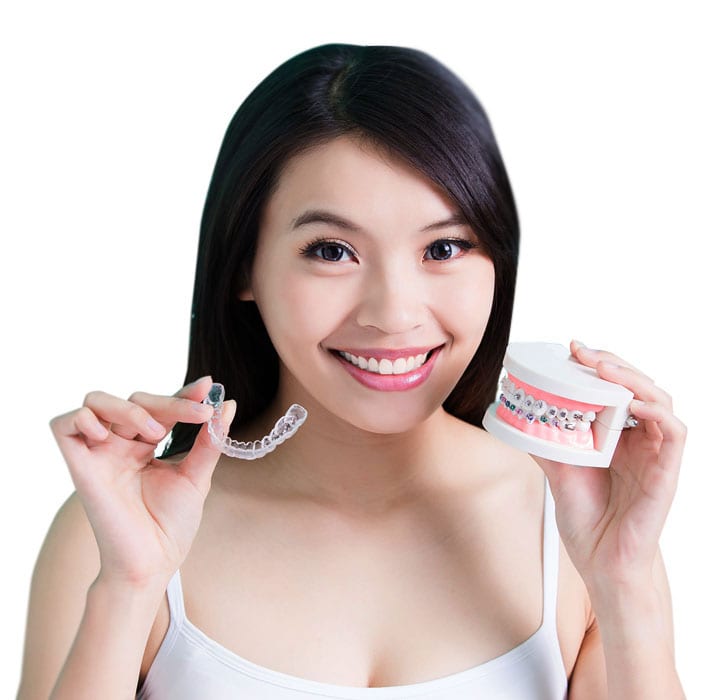 Invisalign® braces must be removed when eating or drinking (the only exception is water). Invisalign® braces are very safe: they won't stain and damage your teeth. With Invisalign® the treatment course is often faster. Usually, Invisalign® treatment lasts from six months to two years, depending on the patient's problem. Moreover, Invisalign® patients have less emergency visits to the dentist as there are no wires or brackets to fix. Remember that success of these braces totally depends on you wearing them no less than 20 hours a day.
Invisalign® Braces
Invisalign® braces are one of the newest types of braces, and are often. They are usually used for patients with minor problems. Invisalign® consists of 18 to 30 customized clear plastic aligners. The aligners are removable and are replaced every two weeks with each set of aligners pushing and shifting your teeth a little bit more.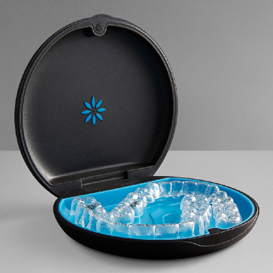 Retainers
Most likely you'll need to wear a retainer for a bit after having braces. Retainers are needed because the bone and soft tissues surrounding your teeth are stabilizing for several months after braces are removed. Wearing a retainer ensures your teeth stay in their new positions and that you don't need any re-treatment.
There are two types of retainers, removable and fixed. The removable kind is usually worn for about a year, while the fixed may be worn for several years. Fixed retainers are adhered to the backs of your teeth using cement. Some patients need to just wear one retainer on the bottom or on the top, but some patients might need both.
Retainer Instructions
Unless your orthodontist says otherwise, wear your retainer at all times.
Take your retainer out when eating, and always store it in its case! (Retainers are most commonly lost in restaurants and school lunchrooms).
Clean your retainer once a day with a toothbrush to remove plaque and odors. Do NOT use toothpaste, as it can cause scratching and discoloration. Denture cleaner or other orthodontic appliance cleaners can also be used.
At first it may be a bit challenging to speak, but you'll get adjusted quickly.
Don't try to adjust your retainer – make sure to call us and we'll take care of it for you.
Always bring your retainer to your appointments.
Take out your retainer before you go swimming.
Keep retainers away from hot water, hot car dashboards, pockets, the washing machine, and out of napkins.
iTero 3D Scanner: Say Goodbye to the Goop-Filled Impression Trays
No goop or gag to worry about
Fast, accurate scan for superior diagnostics
Ideal for braces and Invisalign® clear aligners
Creates a simulation of your potential post-treatment smile
During the scanning process, we use the iTero Element Scanner's wand to capture images of your teeth and gums. When getting scanned you can breathe or swallow normally, and you can even pause to sneeze or ask a question!
The iTero Element Scanner will give us a 3D model of your mouth that we can use with all dental services, including the Invisalign Outcome Simulator, to show you what your new smile might look like.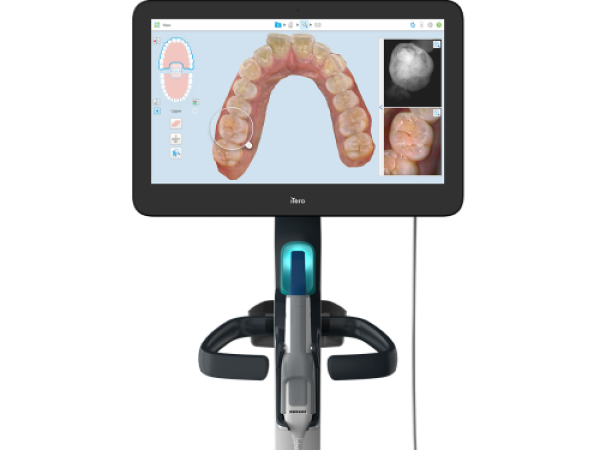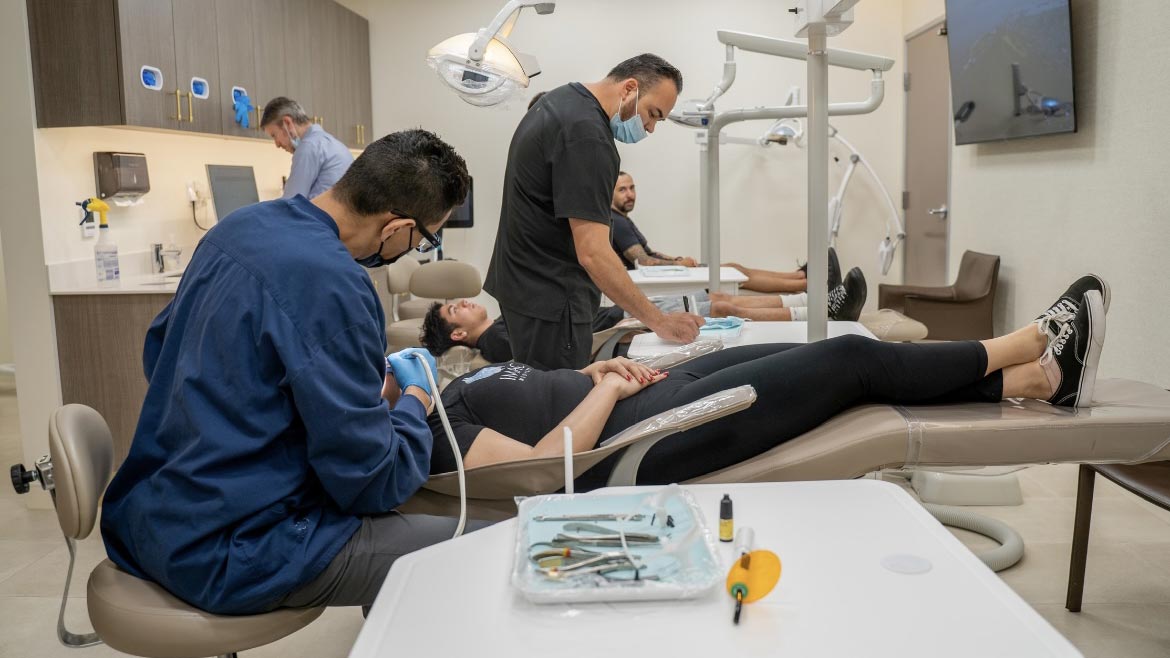 Frequently Asked Questions:
Kids should first see an orthodontist when their permanent teeth start coming in at around age 7. Going to a visit at a young age doesn't mean a child will need braces right away, it just lets the orthodontist check for any problems and decide on the best time to start treatment.
The short answer is yes. Except for a few specific cases, it is best to have all baby teeth gone before starting braces.
Getting braces doesn't hurt. Advanced dental technology, such as the introduction of tech wires and smaller braces, has made getting braces much more comfortable. At the initial state your mouth can be a bit sore a day after tightening, but it is not painful. In rare cases where there is too much discomfort, simple over-the-counter medicine like aspirin can help.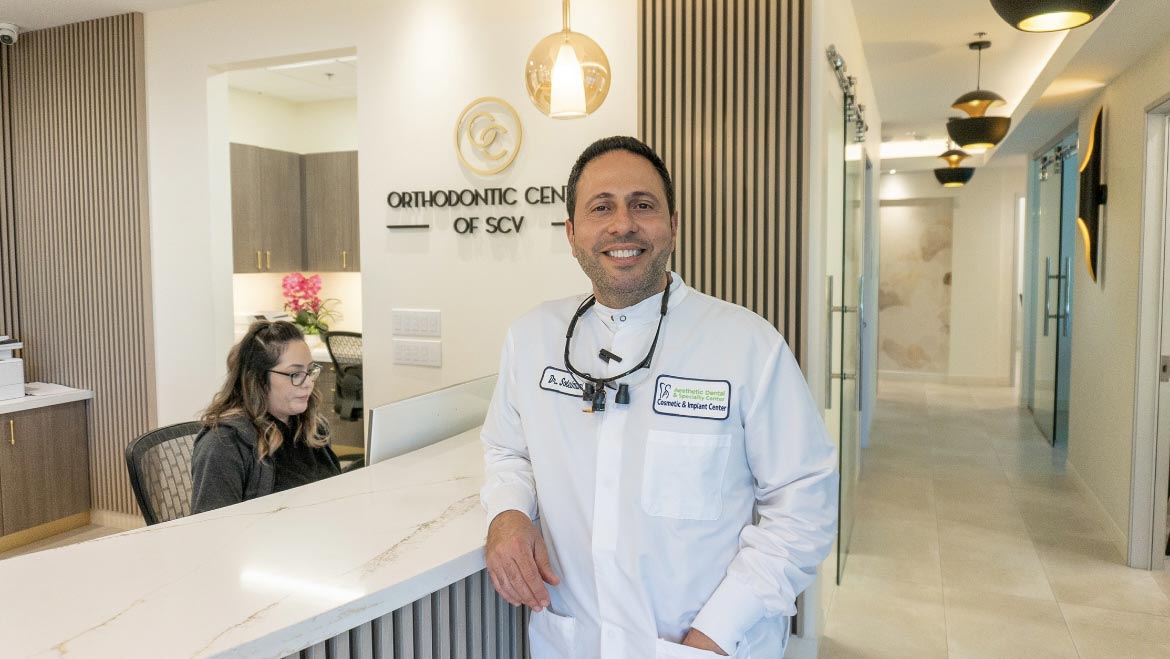 Post Operative Instructions
Braces
There are some important rules to follow after the orthodontic treatment. Below are some of them:
It is normal to feel your braces as if they stick out. You will need some time to get used to new feelings. Although all modern braces are made smooth, they may cause some irritation to cheek tissues during the first weeks. In this case it is recommended to use small pieces of wax put around the brackets to cease irritation as well as rinsing the mouth with warm salt water. Increased teeth and gum sensitivity are also reported by the patients, but these side effects usually disappear within a week. Over-the-counter pain remedies will help relieve pain and discomfort.
Brushing and flossing may be challenging but is very important. Before starting cleaning procedures, remove elastics, bands and all removable parts of braces. First, clean your braces and each wire. Then, pass on brushing your teeth. You can use basic brushing tools – a soft, middle-soft brush or electric brush. Be careful with the latter: your electric toothbrush should have a moderate power mode to avoid hitting the braces. Use a usual and fluoride toothpaste. Pay a special attention to the areas between braces' wires and teeth as well as brackets and gums. To make the brushing more easy and effective, try special brushing tools such as an interdental toothbrush or an oral irrigator. And don't forget about flossing: use a standard floss and a dental threader for hardly accessible areas.
To maximize the results of your orthodontic treatment, it is important to have a healthy diet with reduced amount of sugar-content products. Teeth move better when there is an overall healthy environment. Have a proper brushing and rinsing right after you eat sweets to avoid the potential of cavities.
A dental adhesive used to attach braces to your teeth cures momentally, so you can start eating or drinking right after the procedure. However, be mindful when choosing foods to eat. It is better to keep soft food diet (soup, yogurt, mashed potatoes, cheese, pudding, etc.) until you get used to your braces.
With braces, you have to avoid doing several things: chewing gums of any kind and other sticky food (caramels, gummy candies, etc.); biting hard food such as nuts, taco chips, pizza crusts, ice, whole apples, carrots and corn (they should be cut into pieces); drinking acidic beverages (lemon juice) as it destroys your tooth enamel. All listed products can be potentially harmful for your braces. Although braces are attached with the help of strong adhesive, they can be dislodged because of enormous eating force.
The Orthodontic Center of Santa Clarita features a comfortable relaxed atmosphere. Please come and we would love to show you our state-of-the-art Orthodontic Center with our own in-office dental laboratory. Our friendly staff and highly experienced Orthodontists help to provide optimal care. Our Santa Clarita Orthodontists also provide sedation for patients who need more help to relax
Whether you need orthodontic care services or you have more complex dental needs, our expert dental team serves patients of all ages, and we accept most dental insurance.
No matter where you're traveling from — Valencia or Stevenson Ranch — the Orthodontic Center of Santa Clarita is here to serve you. Take a look at the areas we serve below and schedule a complimentary consultation today!