A shining smile can light up a room, but a smile that suffers from tooth damage, stains and corrosion can hurt one's confidence and self-esteem.
Unfortunately, most of us experience some sort of damage to our smile, but porcelain veneers can help you improve the appearance of your teeth if they are worn, malformed, cracked, displaced or discolored.
Porcelain veneers look just like natural teeth. Veneers' translucent nature allows them to mimic the characteristics of tooth enamel, which is not possible with other materials.
Since veneers are individually designed for each patient they blend in perfectly, with no one being able to tell the difference. With porcelain veneers, you can look and feel more confident and have a wonderful shining smile.
Instagram
View Us on IG to See More of Our Work Before & After Pictures
What is a Porcelain Veneer?
A porcelain veneer is a semi-translucent, wafer-thin shell or coating made of tooth-colored porcelain. It is bonded to the front surface of teeth to improve their cosmetic appearance.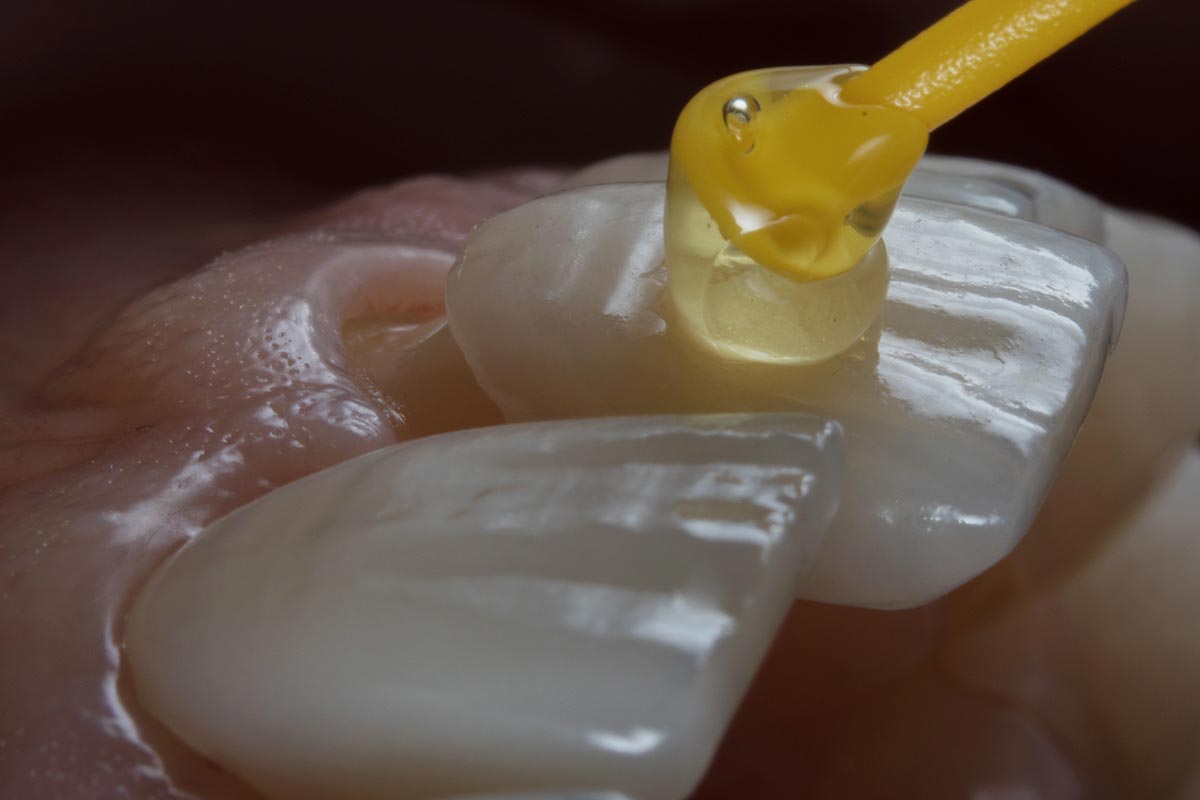 What Types of Problems Can Porcelain Veneers Fix?
Porcelain veneers can be used to cover a variety of cosmetic dental problems:
Stained or discolored teeth (this could happen because of root canal treatment, resin fillings, stains form tetracycline or other drugs, etc.)
Gaps between teeth
Broken and chipped teeth
Misshapen, uneven or crooked teeth
Teeth that are too small or out of proportion
Worn down teeth
Too much gum when smiling
Sensitive teeth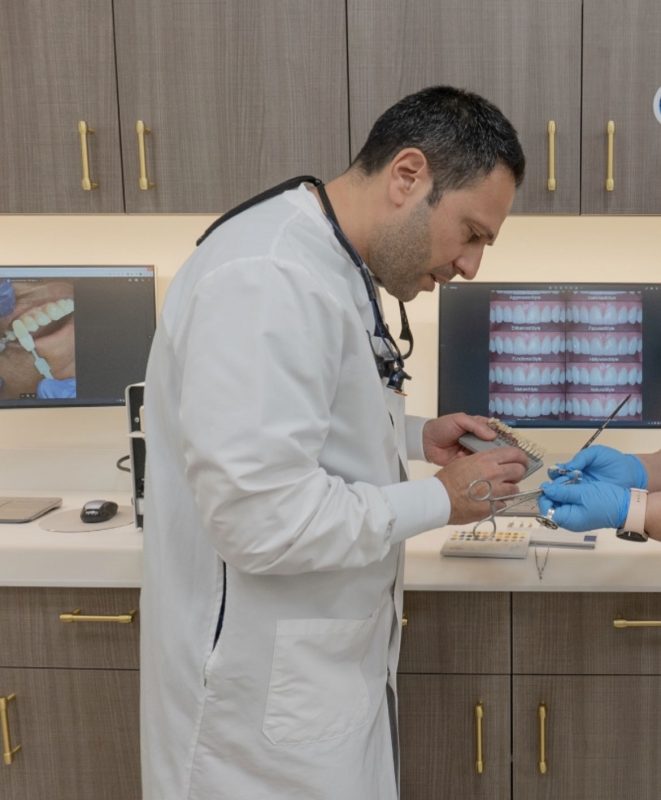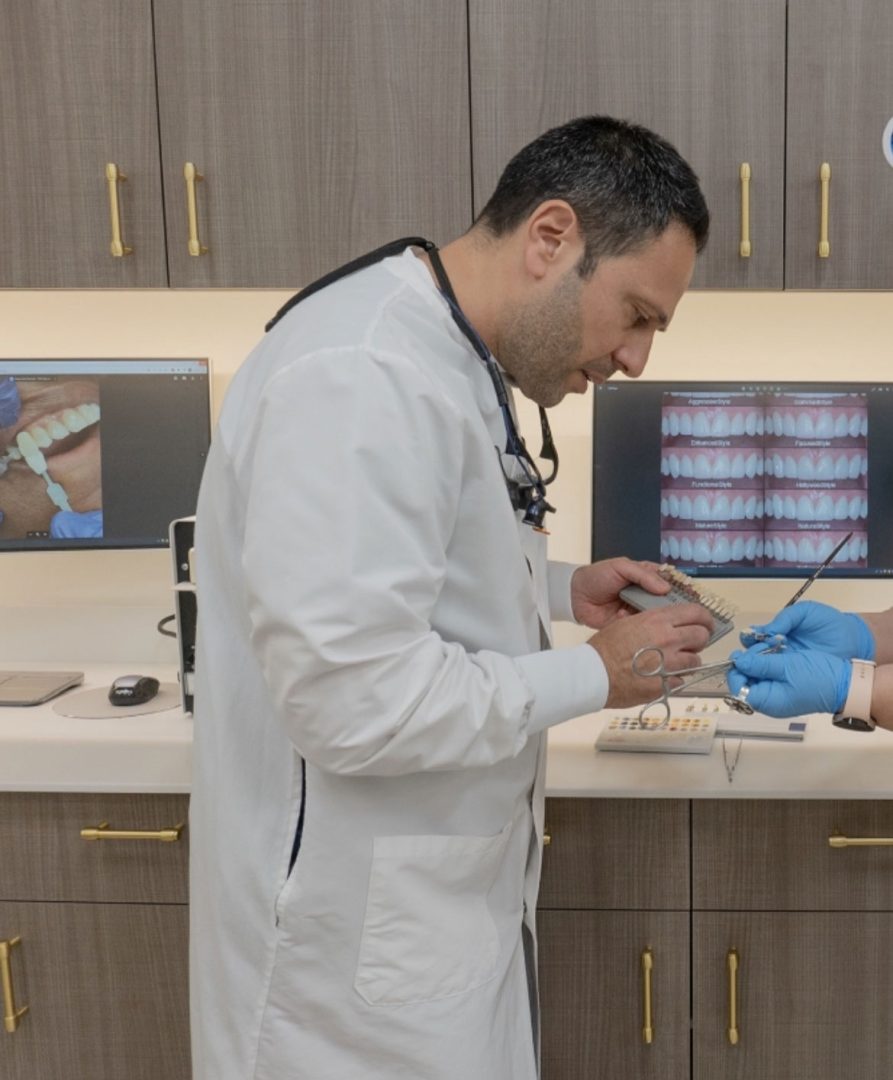 Porcelain Veneers Have a Lot of Benefits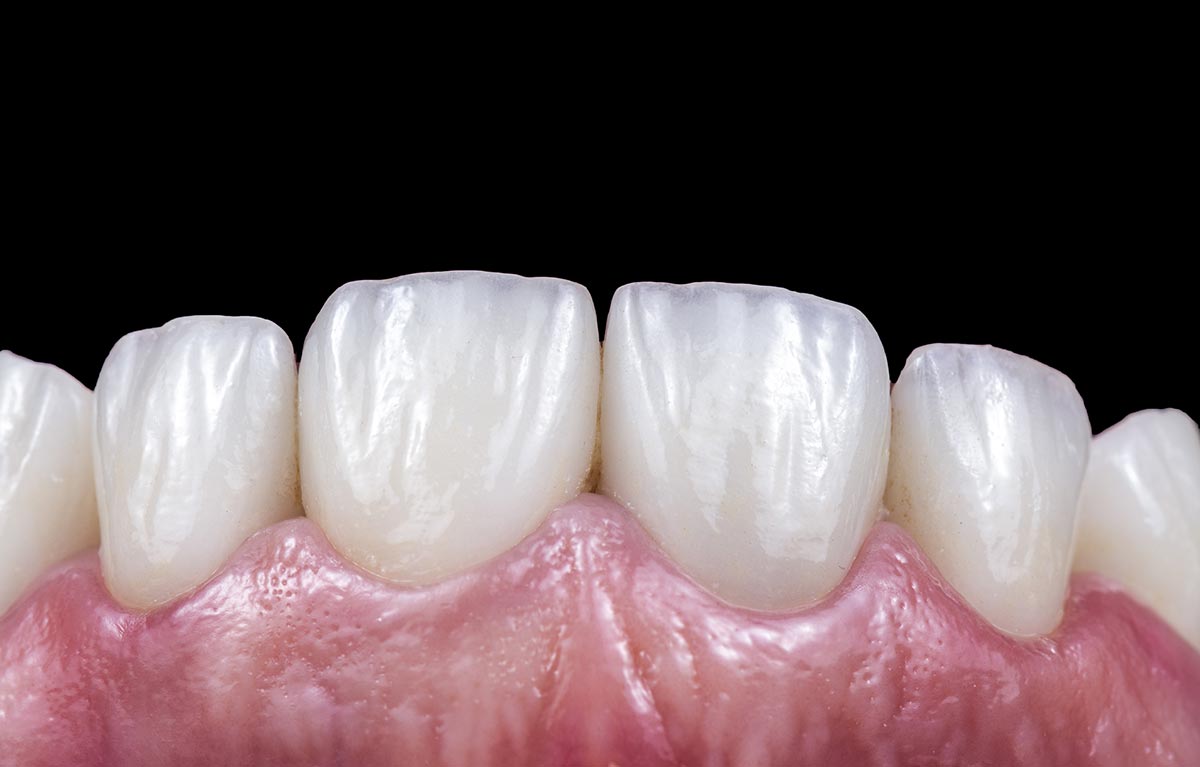 Multitasking
Porcelain veneers are able to correct multiple aesthetic defects at once, so you spend less time in the dental chair.
Speed of the procedure
Porcelain veneers can be applied in two or three visits.
Natural appearance
Recreating the natural look of teeth, porcelain veneers help create a more symmetric and proportional smile.
Durability
Porcelain veneers are extremely durable. Despite of being very thin and delicate, once bonded to a natural tooth, veneers become strong. If they are well-cared for, porcelain veneers can last up to 20 years. Moreover, you will be able to eat, drink, and brush normally. Porcelain veneers even resist stains better than natural teeth.
Alternative to other procedures
Porcelain veneers are a good alternative to ortho brackets and other treatments that take months to provide a visible result.
Conservative way to change your smile
Applying porcelain veneers is a conservative way to change the appearance of your teeth because only a small amount of tooth is removed during the procedure.
Bright smile
Being stain-resistant, porcelain veneers don't pick up permanent stains from intensively colored liquids or cigarettes. They remain brighter and whiter longer than natural teeth. Permanently stained teeth can be whitened with veneers, and you will never have the problem coming back.
Easy Care
Porcelain veneers are treated, brushed and flossed like original teeth. After a while, you won't even notice that veneers are in your mouth as they become integrated into your natural tooth structure. If you have a habit of clenching your teeth, there is a special nighttime bite guard that will help you not damage your veneers.
Steps Involved in Applying Porcelain Veneers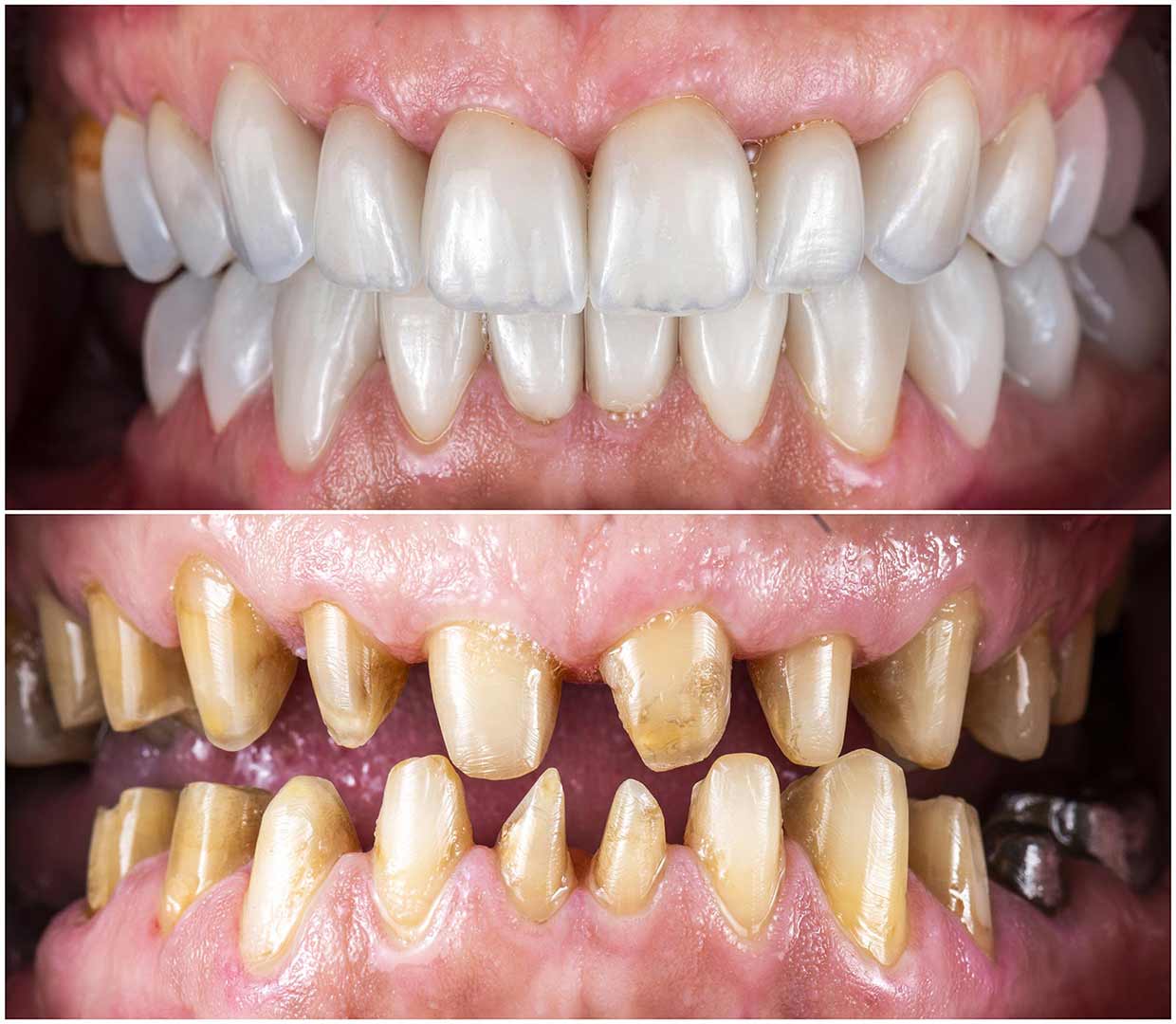 Maintenance
Maintaining porcelain veneers is quite easy. You should treat them as your original teeth, with routine brushing and flossing. One week after the veneers are applied, you will have to return to the dental office for a final evaluation to see how how the veeners are performing. You will also want to occasionally polish your veneers with a special, non-abrasive paste.
Preparation
As soon as your veneers are designed, your teeth's surface will be prepared and re-shaped in order to accommodate the veneers. Before trimming off the enamel, we will decide if there is need for a local anesthetic. Next, a model (or "impression") of your tooth is made and sent out to a dental laboratory to construct your personalized veneer. Usually, it takes one or two weeks to receive the veneers.
Bonding
Before the veneer is permanently integrated into your tooth, it tested to achieve a proper fit and to see how it looks with your smile. Next, your tooth will be carefully cleaned with a special gel to provide a good structure for the dental cement. Then, the veneers are cemented into place. Once properly bonded, a special light beam is used to help the cement harden and cure quickly. The final steps are removing any excess cement and evaluating your bite and smile.
Consultation and Examination
The first step involves an examination of your teeth. You should explain the results you want to achieve, ane We will discuss the diagnosis and next steps.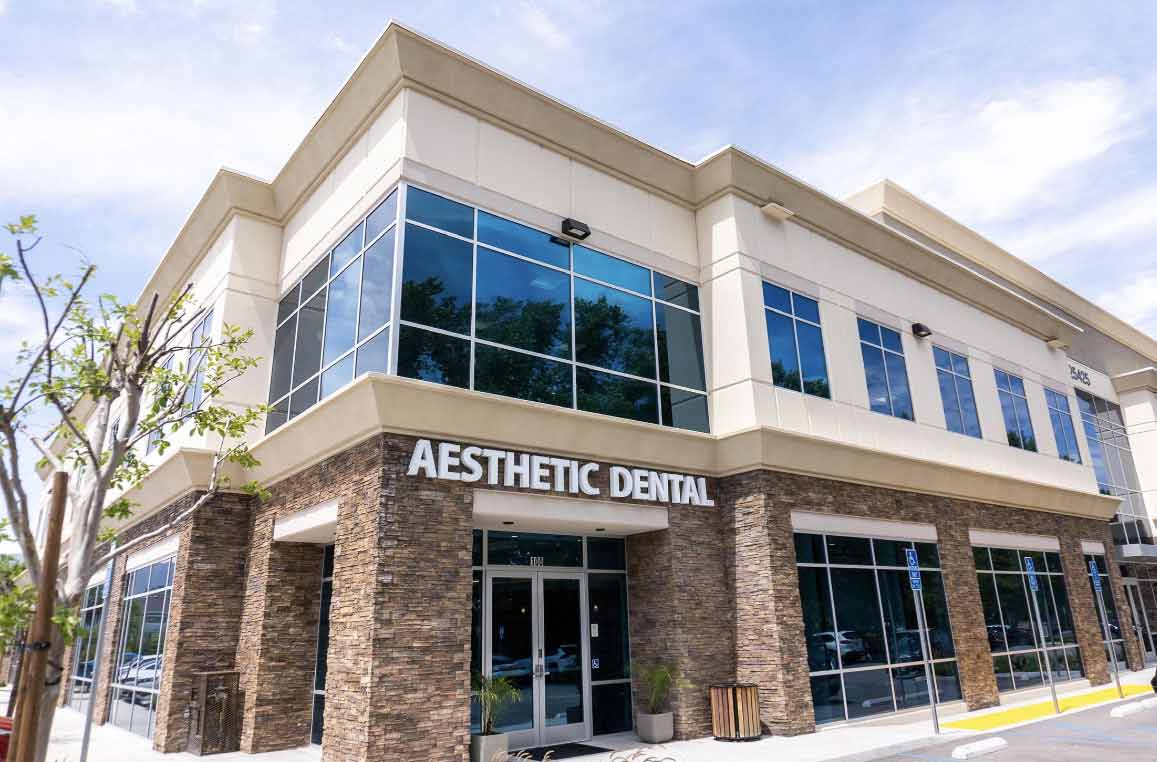 Post Operative Instructions
Temporary Veneers
Before getting the permanent veneers, you will have to wear temporaries for a short amount of time. They are made of an acrylic material to protect exposed dentin and minimize tooth sensitivity. As temporary veneers are placed with cement that can come loose, you should avoid chewy food (gums, taffy, etc.) Brushing and flossing can be performed but take care to be gentle. In some cases the temporary veneers are fused, in which case you may need a floss threader to properly clean in between your teeth. If temporary veneers fall out, try to put them back with the help of over-the-counter dental paste and contact our office. Be ready to experience some level of increased sensitivity during the treatment process. To minimize discomfort, we recommend avoiding extra cold and hot food and drinks. If your gums become sore, rinse the mouth gently with warm salt water. If the discomfort causes the need you can take the prescribed or over-the-counter medicine to relieve the pain and sensitivity, as well as call our office.
Permanent Veneers
When you have your permanent veneers cemented to your teeth, it may take some days to get used to them. Your bite can feel different, especially if you have changed the length and shape of your teeth. It is also normal to experience some level of sensitivity to cold and hot. Further, your teeth and gums need some time to fully heal. To ease any discomfort, take mild pain-meds. To prolong the life and beauty of your new veneers smile, it is essential to keep a have a good oral care routine. Remember that the underlying teeth are still susceptible to decay and cavities. The most vulnerable parts are those where the tooth and veneer meet. Perform regular brushing and flossing, keep a healthy diet excluding chewy, hard food, and minimize sugar-containing foods and beverages. It's generally recommended to stay away from biting with teeth that are veneered, for example biting into apple or having corn on the cob. In some cases it is recommended to wear a night guard to protect your porcelain veneers from grinding and clenching while you sleep.
Aesthetic Dental & Specialty Center features a comfortable relaxed atmosphere. Our friendly staff and hygienists help put our patients at ease — even the most nervous ones. Our Santa Clarita dentists also provide oral conscious and IV advanced sedation for those patients who need more help to relax.
Whether you need general dentistry services or you have more complex dental needs, our expert dental team serves patients of all ages, and we accept most dental insurance.
No matter where you're traveling from — Valencia or Stevenson Ranch — Aesthetic Dental & Specialty Center is here to serve you. Take a look at the areas we serve below and schedule a complimentary consultation today!