Technology
At Aesthetic Dental & Specialty Center of Santa Clarita & Valencia, we are proud to bring the latest technology in cosmetic dentistry to our patients. Our oral health experts are highly trained advanced dentists in Santa Clarita California. We spare no expense when it comes to the care, safety and treatment of our patients. Our patients can now enjoy more comfortable and effective dentistry than ever before!
Schedule Your Appointment Today
Call Now: (661)290-2825
Digital X-rays to Minimize Radiation Exposure
Our digital x-ray machines offer fast exposure times with far less exposure to radiation. We also use the latest intra-oral cameras with a tiny fiber-optic wand. They help take vivid photographs to examine teeth, gums and soft tissues in precise details as well as allow us to develop the most appropriate treatment plans for you.
Want To Learn More about Your Treatment Plan?
Every patient has option to view x-rays pictures and treatment plans on LED flat TV in every room. Our 3D animation software library clearly explains all dental procedures so you can feel confident in your care.
Cone Beam 3D CT-Scan
Your treatment would be precisely evaluated with our in office state-of-the-art 3D Cone Beam CT-Scan for all of your dental implant, Sinus lift surgery, bone graft, full bony surgical tooth extractions, Orthodontic treatment and for patients with high anxiety or gagging reflex that can't handle regular x-rays. Our dentists and specialist use 3D-CT Scan for increased diagnostic accuracy. This imaging is all digital with lowest dose possible. All this available in our Santa Clarita dental office to provide best dental health care for you.
High Standards of Sterilization
We invest in highest standards in equipment sterilization. We have two step sterilization process: first, we go through a cold sterilization process, then, everything go through a second process in our autoclave sterilizers to ensure all instruments and tools exceed medical sterilization standards.
Prophy Jet
We use Prophy Jet for advanced air polishing cleaning technology. Utilizing air/water/sodium bicarbonate (baking soda), Prophy Jet gently removes stains and dental plaque at the same time when polishing the teeth.
Ultrasonic Cleaning Unit
Ultrasonic Cleaning unit consists of four sides of a power scaler. The device moves in an elliptical motion and comes in handy when removing stains and deposits from behind and between the teeth. The ultrasonic vibration helps control oral bacteria by breaking down the cell wall of the bacteria. The water is used to cool the cavitron and help rinsing away bacteria, stains and debris.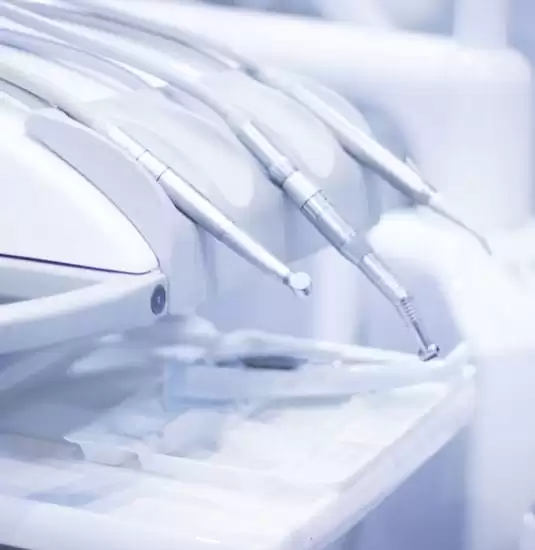 Dental Microscope Loops with LED Light for Precise Procedures
For all aesthetic or precise procedures we like to utilize high power microscopes to enhance the precision of the dental care we provide for our clients.
Dentistry is micro-surgery which at higher magnifications enables us to create dental restorations with very precise fit. Our microscope loops have LED beam of light which directly illuminates the teeth, minimizing glare to our patients.
Whitening Opalescence Boost
Opalescence Boost features a unique, chemically activated formula that allows us to whiten your teeth without the bothersome heat or ultraviolet rays of a light.
Opalescence Boost also contains potassium nitrate and fluoride, which help improve oral health by strengthening enamel, decreasing sensitivity, and offering increased cavity prevention.
Opalescence Boost offers results in about an hour. Opalescence Boost features a unique syringe to syringe mixing system, which ensures its freshness and delivers an evenly mixed product. With its distinct red color, Opalescence Boost eases placement and removal. The dentist-supervised, in-office procedure is safe and effective, and offers a brighter, whiter smile after just one appointment.
Invisalign®
We offer one of the newest types of braces – invisalign® braces which consist of 18 to 30 customized clear plastic aligners imitating your natural cheeks and gums.
Invisalign® braces effectively treat a wide variety of cases, including crossbite, overbite, underbite, crowding and spacing. We are going to extend our services for invisalign® in the nearest future.
Laser Therapy to Treat Early Periodontal Disease
Laser therapy for periodontal disease is the less painful and minimally invasive procedure.
With the laser therapy, you will need less time to recover and achieve longer-lasting results. Moreover, laser therapy is an ideal option for those patients who have problems with blood pressure, hemophilia, HIV or diabetes.
Veneers New Technology
We use new technology in veneer fabrication that allows us to perform dazzling transformations with minimal surface preparation.
Our lab comes on site with the latest equipment to provide the final custom shade for the most natural look veneers.
Electronic Apex Locator for Root Canal Treatment
An electronic apex locator is an electronic device that helps determine the position of the apical foramen and the length of the root canal space, providing an individually-designed plan for your root canal treatment.
Our dentists utilize leading edge dental technology with the goal of increasing patient comfort and satisfaction. To remain on the leading edge of dental care, we will continue to implement the latest technology available so that we may offer our patients the very best that the industry has to offer.
If you wish to learn more about our technology, our restorative dentistry services, or cosmetic dentistry procedures, we can answer your questions. Whether you live in Santa Clarita or Valencia or elsewhere in Los Angeles county, contact the practice of Dr. Soleimani today.
Aesthetic Dental & Specialty Center features a comfortable relaxed atmosphere. Our friendly staff and hygienists help put our patients at ease — even the most nervous ones. Our Santa Clarita dentists also provide oral conscious and IV advanced sedation for those patients who need more help to relax.
Whether you need general dentistry services or you have more complex dental needs, our expert dental team serves patients of all ages, and we accept most dental insurance.
No matter where you're traveling from — Valencia or Stevenson Ranch — Aesthetic Dental & Specialty Center is here to serve you. Take a look at the areas we serve below and schedule a complimentary consultation today!