Santa Clarita & Valencia emergency dental center provides premier care and affordable procedures to get patients out of dental discomfort.
For dental emergencies, we offer same day appointments and extended office hours in Santa Clarita, California.
You will experience NO pain during your emergency dental care treatment, even if a tooth extraction is needed, and will receive full anesthesia.
After your dental treatment we will give you antibiotics and medicine for pain relief so you are comfortable when you get home.
We offer urgent dental care for common dental emergencies:
Suffering toothache
Knocked-out tooth
Bitten lips, tongue or cheeks
Dental abscess and swelling
Jaw pain
Trauma
Bleeding
Root Canal
Object caught between tooth
Chipped tooth
Cracked tooth
Fractured tooth
Broken dentures
Lost Fillings
Other Dental Emergencies
In some cases, you may have had recent dental work done, like, dental implants, and you are concerned as to whether the discomfort you're experiencing is normal or the dental pain constitutes an emergency. If you have concerns or problems related to a recent dental procedure, it's important to speak to your dentist right away. The dental clinic may recommend an emergency dentist appointment to ensure that there are no infections or need for adjustments from your last treatment. When it comes to your oral health, it is better to be safe than sorry.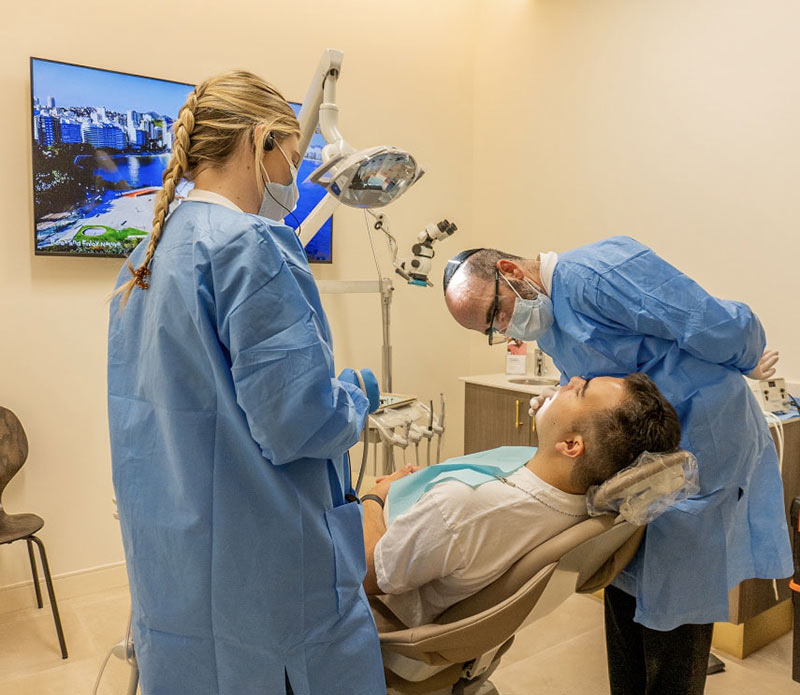 Visit a Dental Office as Soon as Possible After Dental Injuries
Best Practices
Tooth Fallen Out: Place the tooth in milk and see a dentist as soon as possible.
Broken Jaw or Jaw Pain: Use a cold compress to reduce swelling and go to the emergency dentist immediately.
Broken or Cracked Tooth: Rinse your mouth with warm water to clean the area and use a cold compress to reduce swelling. Then immediately see a dentist.
Severe Tooth Pain: This can be a sign of a deeper issue or infection. Rinse your mouth with warm water, then see an emergency dentist.
Always try to save a tooth if it has fallen out or cracked. You can place it in milk or get a save-a-tooth kit at a drugstore to keep your tooth moist until you reach the dentist's office.
Things to Avoid
Use aspirin on your gums or teeth.
Use your teeth to open objects instead of scissors.
Wait until you're in sever pain before calling your dentist.
We offer 0% on site instant credit and we also offer a complimentary consultation for emergency care. Dental problems left untreated can cost a myriad of health problems down the road for both teeth and soft tissues. It's very important to take this issue seriously and speak with an experienced dentist as soon as possible. We offer patients affordable and reasonable prices for emergency dentistry services. There's no reason to suffer when our helpful dentists are literally a phone call away.
Due to the serious nature of the situations that cause patients to need urgent dental care, we offer same-day appointments for both current patients and new patients. The best way to save your smile is to see a dentist as soon as possible. If you need immediate dental services in Santa Clarita and Valencia, please call our phone number at 661-290-2825.
Yes. Our dentist can remove teeth and is available for various types of dental emergencies It's important to call your Santa Clarita dentist as soon as possible after a tooth has been chipped, cracked, or fractured. We can also perform an emergency root canal if needed.
Our dentist prescribes antibiotics and pain relievers after emergency dentistry procedures. Make sure to follow all instructions given by the dentist to avoid infection, decrease discomfort, and promote healing. If you have any questions about the post-op instructions given after you receive emergency dental care, please call our office for help.
How to Prevent Dental Emergency Problems
Many times a dental emergency comes out of the blue, there are other times the situation could be prevented. Proper oral hygiene, wearing a mouth guard during sports, and avoiding chewing on hard objects are just three of many ways to protect your teeth from harm. You can also help prevent dental issues from getting worse by making an appointment with your dentist when you have a concern about pain or discomfort.
Aesthetic Dental & Specialty Center features a comfortable relaxed atmosphere. Our friendly staff and hygienists help put our patients at ease — even the most nervous ones. Our Santa Clarita dentists also provide oral conscious and IV advanced sedation for those patients who need more help to relax.
Whether you need general dentistry services or you have more complex dental needs, our expert dental team serves patients of all ages, and we accept most dental insurance.
No matter where you're traveling from — Valencia or Stevenson Ranch — Aesthetic Dental & Specialty Center is here to serve you. Take a look at the areas we serve below and schedule a complimentary consultation today!