To fully understand this remarkable technique for replacing teeth, you should first understand what a dental implant is. An implant is a small titanium screw that fits inside your jawbone and replaces the root-part of a missing tooth.
Minor surgery is required to insert the implants. Once the implant is in place, a crown is attached to give you a highly realistic-looking and functional prosthesis: an acrylic tooth.
Here's where solving tooth loss gets really interesting: You do not need a dental implant for each and every one of your missing teeth. All you need is four precisely placed implants on the top of your mouth, and four on the bottom, to restore your full smile.
That's the beauty of the all-on-four concept. And because the implant is made of titanium, it has the unique ability to become a permanent solution and fuse to living bone — a process called osseointegration — and function as though it were really a part of your body. In other words, the dental implant becomes part of the jawbone and serves as a strong, long-lasting foundation for your new teeth.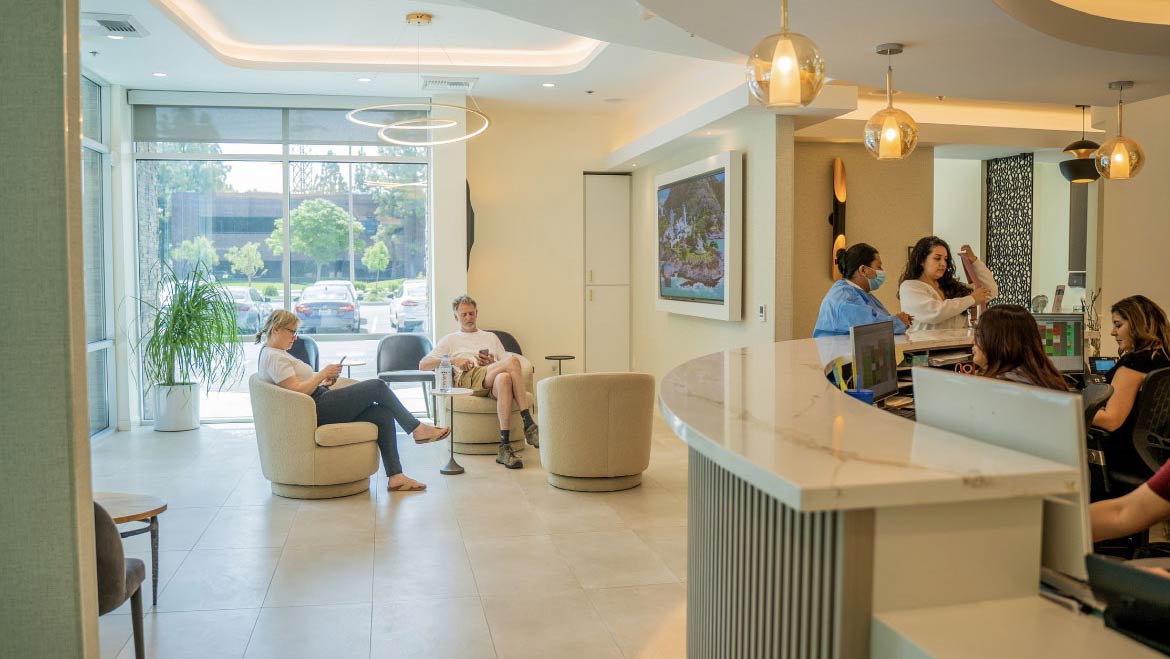 Instagram
Check out our Instagram profile to see more of our work before & after pictures and videos.
In Just One Day
Yes, you can get a radiant, new smile in just one day
By combining the precise technology of the all-on-four procedure with our expertise, we have developed a way to give most patients a new smile in one day.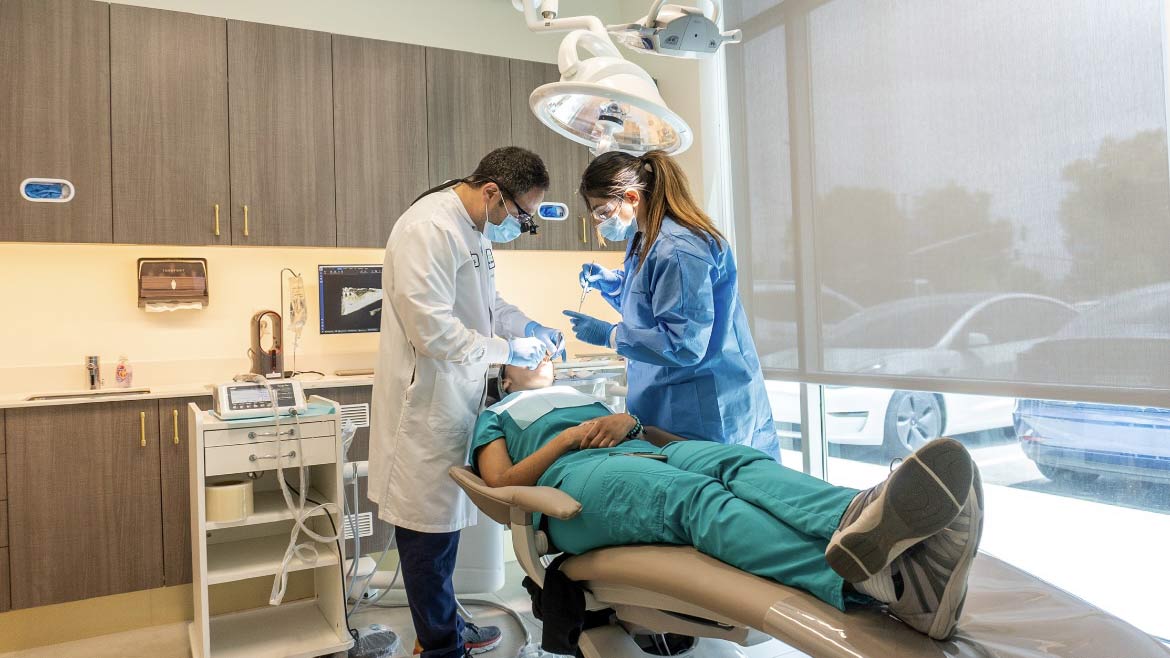 What to Expect with All-On-Four Dentistry
It's important to realize that all-on-four implants will not feel the same as your natural teeth, whether you get a full arch on the upper jaw or lower jaw or both.
Once you've had this dental implant procedure, eating and speaking will feel differently, and you will most likely need to make adjustments in how you eat and speak. Because of this, some patients report having difficulty with full mouth implants, but most love the results.
With removable dentures, there is always the danger of teeth slipping when eating or just going about your day. Such occurrences can be very embarrassing. All-on-four dental implant treatment makes such occurrences a thing of the past. Because the high-quality titanium implants actually fuse to the bone, all-on-fours are a permanent solution to tooth loss.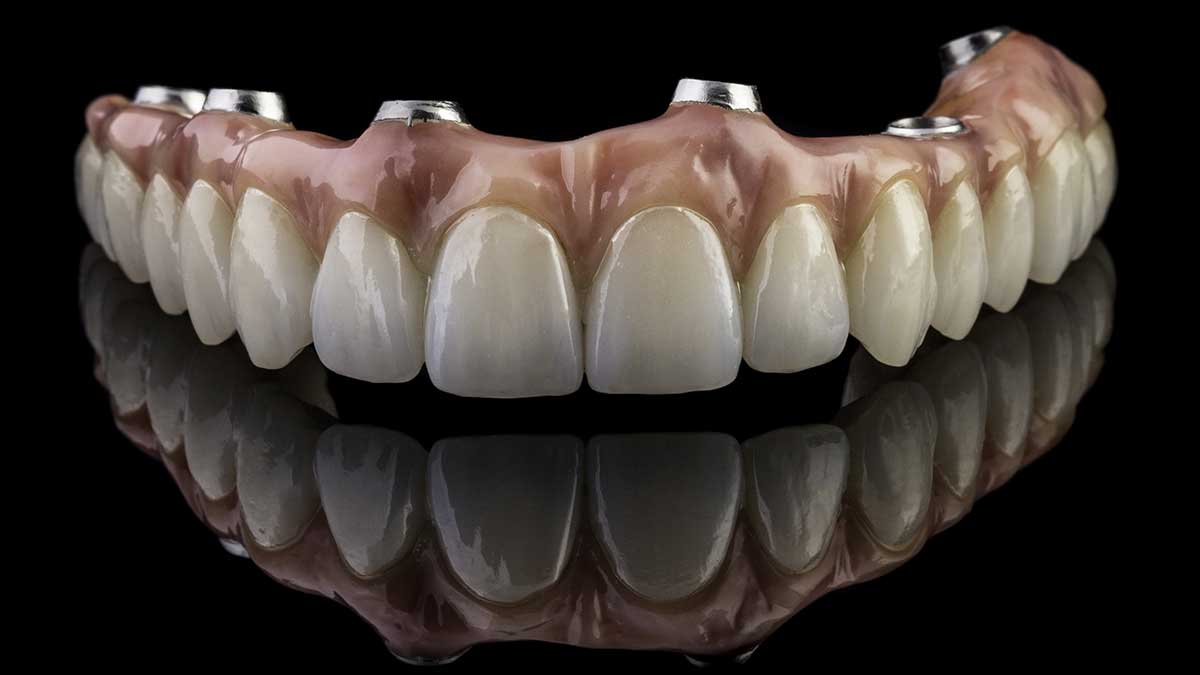 The Day of Surgery
Another reason people like the all-on-four solution is because, in most cases, you can get a brand-new full set of teeth in a day.
Recovery time is also much shorter than the adjustment period for denture wearers. After just a few days post-procedure, most patients are using their new teeth and going about their lives as though nothing happened. From there, all you need to do to maintain your new teeth is to practice good oral health and oral hygiene — be sure to floss regularly, brush regularly, and see your dentist regularly. That's it.
Benefits of
All-on-4 Implants Compared to Traditional Dentures
Bone is preserved
Dental implants preserve the bone in your jaw so that it can stay strong thanks to the stimulation when chewing. Dentures actually accelerate any bone loss or weakening in your jaw because they simply sit on your gums and don't stimulate your jawbone, which leads to bone loss with time.
Diet Benefits
Dentures limit what you can eat because you can't have anything too hard or too crunchy as it could break your dentures. They also cover your palate, which means you won't taste things as much. Implants allow you to eat almost anything you want and taste everything as it is meant to be tasted.
Improved Aesthetics
Tooth and bone loss can actually influence the way your face looks because you don't have the bone to support it. All-on-4s help to replace the original height between your upper and lower jaws so that your lips and cheeks are fuller. Say goodbye to the gaunt look!
More Comfortable
Your teeth are supported by solid implants, not gum tissue, so you won't get contact sores or friction marks on your gums.
Self-Confidence
Implants don't move around when you speak or when you eat, so you don't have to be worried about embarrassment. They also help with spitting problems and speech concerns.
Application
Implants permanently fix your teeth in your mouth, so you don't have to worry about messy, expensive adhesives.
Success Rate
According to a study published in the National Library of Medicine, all-on-four patient-related success rates at five years are 94.8% and 93.8% at 10 years of follow-up.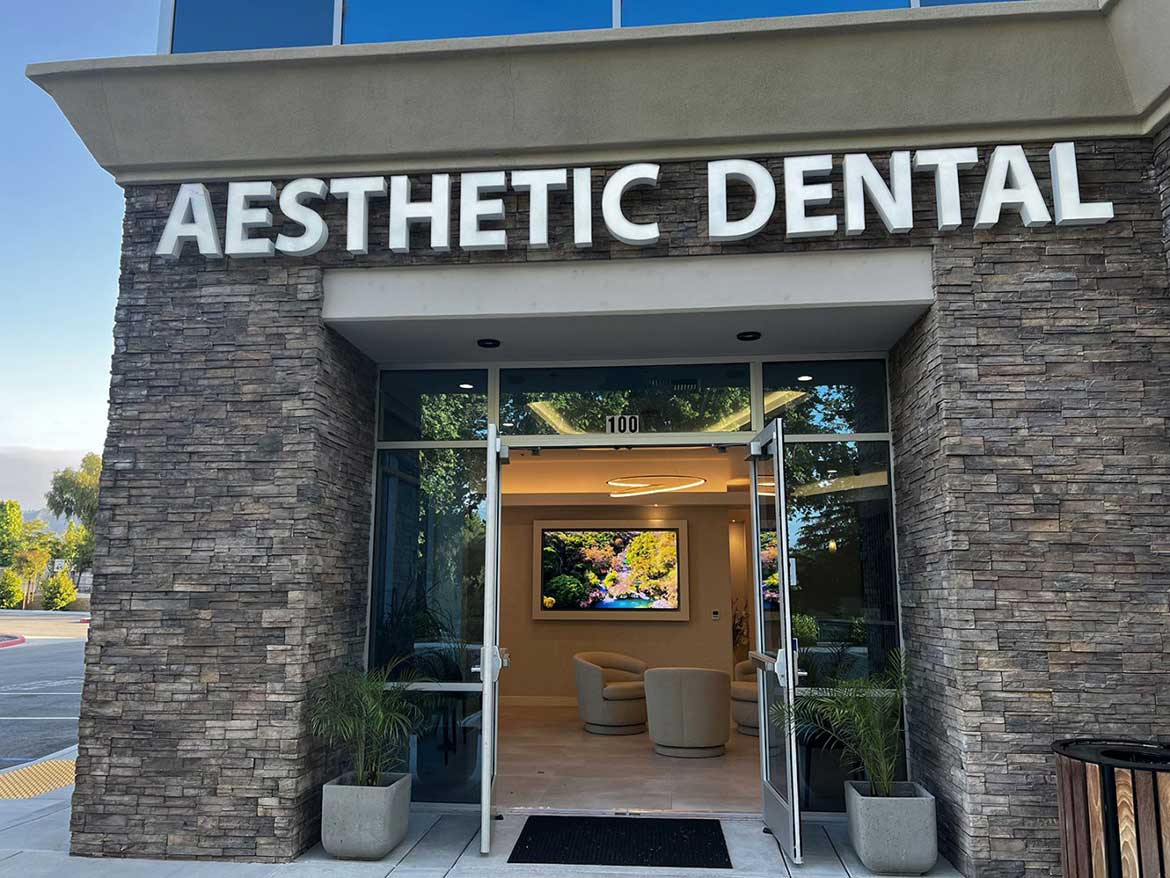 How All-on-4 Dental Implants Work
Are All-On-4 Dental Implants Right for You? 5 Key Considerations
Read more about All-on-4 Dental Implants
Read Blog Article
Who is a Candidate for All-On-4 Implants?
There are many different types of patients who are good candidates for All-On-4 dental implants.
You may be a good candidate for All-On-4 if you've lost most or all of your teeth, or if you need to have all of your teeth removed. Patients with a healthy jawbone structure are generally good candidates because it allows the implants to adhere well, but those who have experienced some bone loss may still be good candidates. It's always best to have a consultation so your dentist can determine if your jawbone structure is adequate.
All-On-4 implants are the most cost-effective way to replace the entire upper or lower rows of your teeth, so they are usually the best choice for patients who are on a budget. Also, since they require less surgery than getting implants done one or a few at a time, you're a good candidate if you are anxious about dental surgery.
Cost of
All-On-4
Dental Implants
It is important that you are comfortable with the all-on-4 procedure and associated costs, but the price alone should not be your deciding factor.
If you have dental insurance, contact your provider to determine whether the policy covers dentures or an all-on-4 implant. Some companies may view implants as cosmetic and will not cover the procedure, but they may cover some of the underlying procedures which will lower the costs you pay substantially.
Patients should request an itemized list of all expenses from their dentist, and create a preliminary dental budget to plan for financing. The final cost for your all-on-four dental implants will be determined by a variety of factors, including the type of prosthetic, and associated costs of procedures such as extractions or bone grafts. The full cost before insurance is anywhere between $12,000 and $30,000, depending on whether you need one arch or two.
Make sure to check with your dentist about available financing options and payment plans they offer to help pay for your all-on-4s.
We offer 0% financing and accept over 10 different insurance providers, so please reach out to ask about insurance, financing, or itemized expenses.
Healing After Surgery
Healing after the All-on-4 procedure is similar to other dental surgeries, where rest is a critical part of the recovery process.
By focusing on rest, you'll help the jawbone and gum tissue heal immediately after surgery, which is crucial. You'll want to avoid any strenuous physical activity until you've been cleared by your surgeon.
For the first several days, there will be some comfort, but we provide our patients with pain medication to make sure it is not a challenging time. In addition to the gums healing, your bone will also be healing, which takes longer than tissue to get back to normal. We will guide you through the process, such as what foods are good to eat during the first few months as healing takes place. You'll be given a full list of instructions and we'll answer all of your questions both before and after the surgery.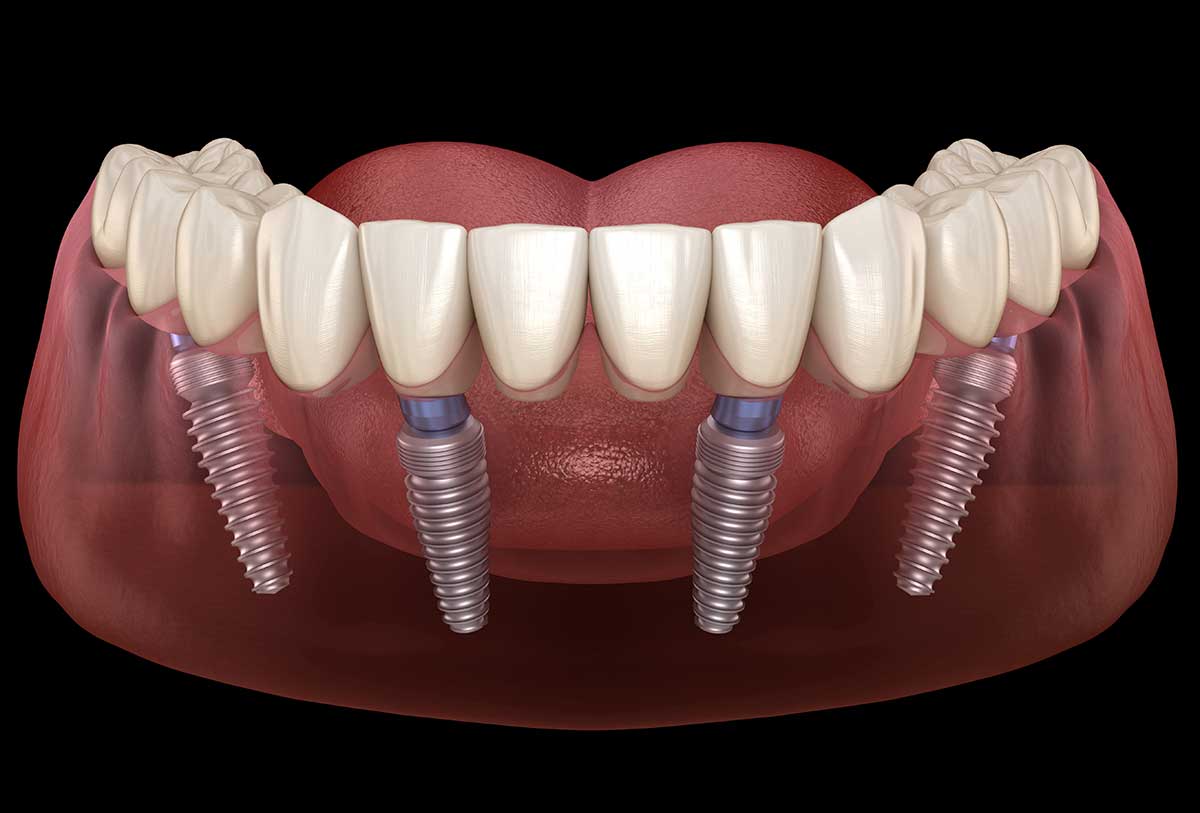 How Long Do All-On-4 Implants Last
All-on-4 dental implants are meant to be a long-lasting, permanent dental solution. With proper care, they can last 20 years or longer.
As mentioned above, at 10 years they have a success rate above 94% and 93% at up to 18 years.
Read Article
Efficacy Even With Low Bone Volume
Most dental implants require a high amount of bone for placing an implant, but patients missing teeth are often missing jawbone.
The All-on-4 treatment is a unique implant system because it uses longer implants that are placed at an angle which increases the bone-to-implant contact ratio, which reduces the need for bone grafting. By placing the implants at an angle they use better quality bone and provide a more stable, long-lasting base for the teeth.
How Many
Teeth are in
All-on-4 Implants?
Because all-on-4 implants are designed to replace all the teeth in your mouth, each set contains 14 teeth.
One set goes on the top of the mouth, and the other goes on the bottom. Each set of teeth contains 4 incisors, 2 canines, 4 premolars, and 4 molars.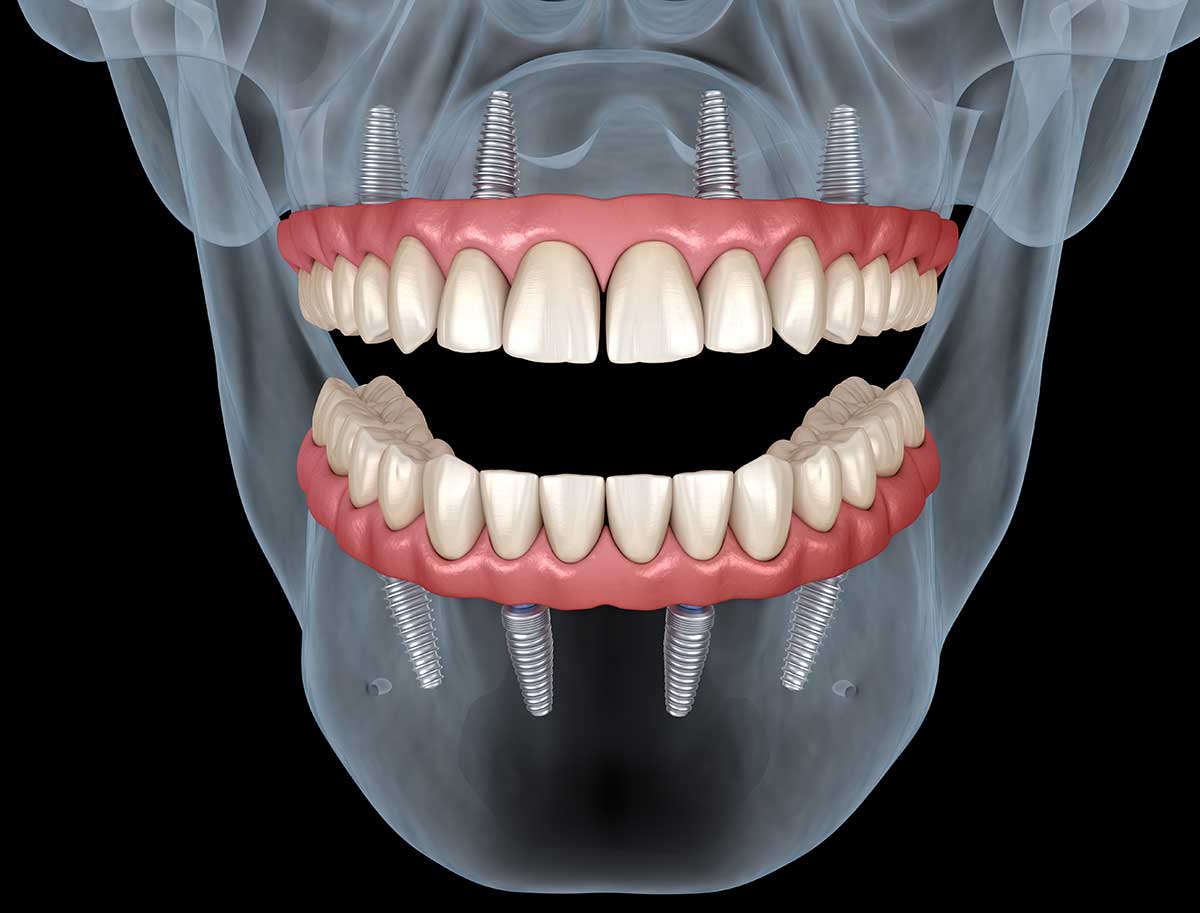 How Do You Clean Under
All-on-4 Implants?
You can clean under all-on-4 dental implants by using Super Floss, which makes it easy to thread under the implant.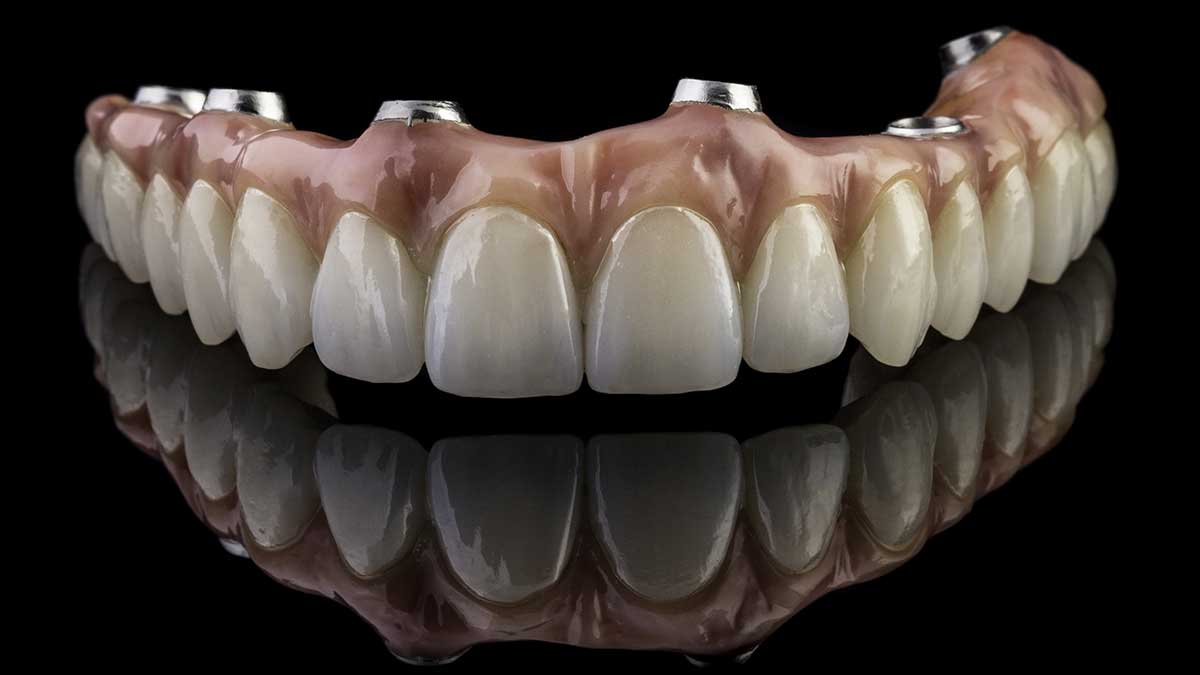 How Painful is Getting
All-on-4 Implants?
One of the great things about the all-on-4 procedure is that the discomfort and pain is low compared to other dental implants.
There is a mild to moderate level of pain, and patients will be able to manage their pain by taking take over-the-counter anti-inflammatory medicine (aspirin, ibuprofen) for three to five days. Further, we provide our patients with additional pain medication to ensure there is no discomfort.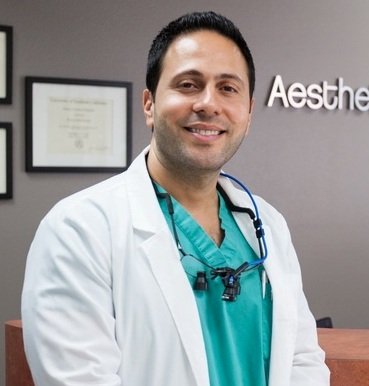 Dr. Pedram Soleimani D.D.S.
Aesthetic Restorative & Implant Dentistry
Dr. Soleimani is a world renowned dental implant and cosmetic care provider earning his reputation as a leader and educator in these fields and dedicated to providing the gold-standard in patient care Center Of Excellence for All-on-4 dental implants.
Dr. Soleimani has extensive experience with over 1000's of successful cases from All-on-4 dental implants to full mouth implants as well as fixed implant dentures. Dr. Soleimani is a true pioneer of dental implant surgery and is located locally in Santa Clarita, CA.
After graduating from the University of Southern California, Dr. Soleimani continued his residency education at UCLA / VA hospital. With both working in clinical and hospital practice Dr. Soleimani has extensive experience in dental implants and oral surgery, with substantial experience in a wide range of complex dental conditions. Dr. Soleimani provides highest standard of dental care in Santa Clarita.
Aesthetic Dental & Specialty Center features a comfortable relaxed atmosphere. Our friendly staff and hygienists help put our patients at ease — even the most nervous ones. Our Santa Clarita dentists also provide oral conscious and IV advanced sedation for those patients who need more help to relax.
Whether you need general dentistry services or you have more complex dental needs, our expert dental team serves patients of all ages, and we accept most dental insurance.
No matter where you're traveling from — Valencia or Stevenson Ranch — Aesthetic Dental & Specialty Center is here to serve you. Take a look at the areas we serve below and schedule a complimentary consultation today!