Many people suffer from the tooth loss caused by tooth decay or injury.
For years, the only treatments available were dentures and bridges. Today, we have a better solution – dental implants. A dental implant is an artificial tooth root that is placed into the jaw to hold a dental prosthesis such as crown, bridge or denture. Tooth implants are necessary for people who have lost their teeth for reasons such as injury or periodontal disease.
Teeth inserts have revolutionized dentistry. They are the most well researched, advanced technology and the best alternative to your natural dentition. Implants give you the opportunity to have your teeth back, even if they've been missing for many years. Just like natural teeth, Implants provide the ability to eat, speak and smile with confidence.
Dental implants can bring back the smile to patients who have experienced teeth decay, injury, gum disease, or other maladies. They are also a perfect choice to replace ill-fitting dentures. If you want to replace your missing teeth, don't smoke and are in good health, you are an ideal candidate for implants.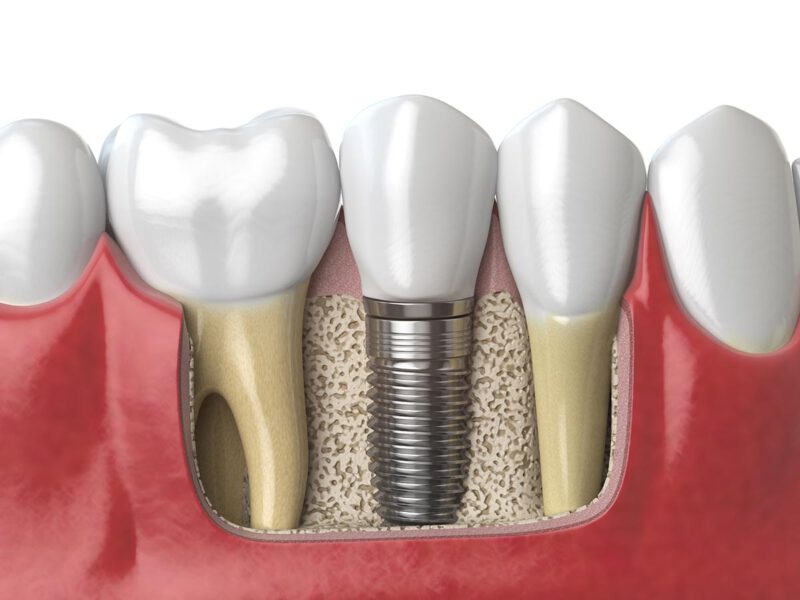 Instagram
View Us on IG to See More of Our Work Before & After Pictures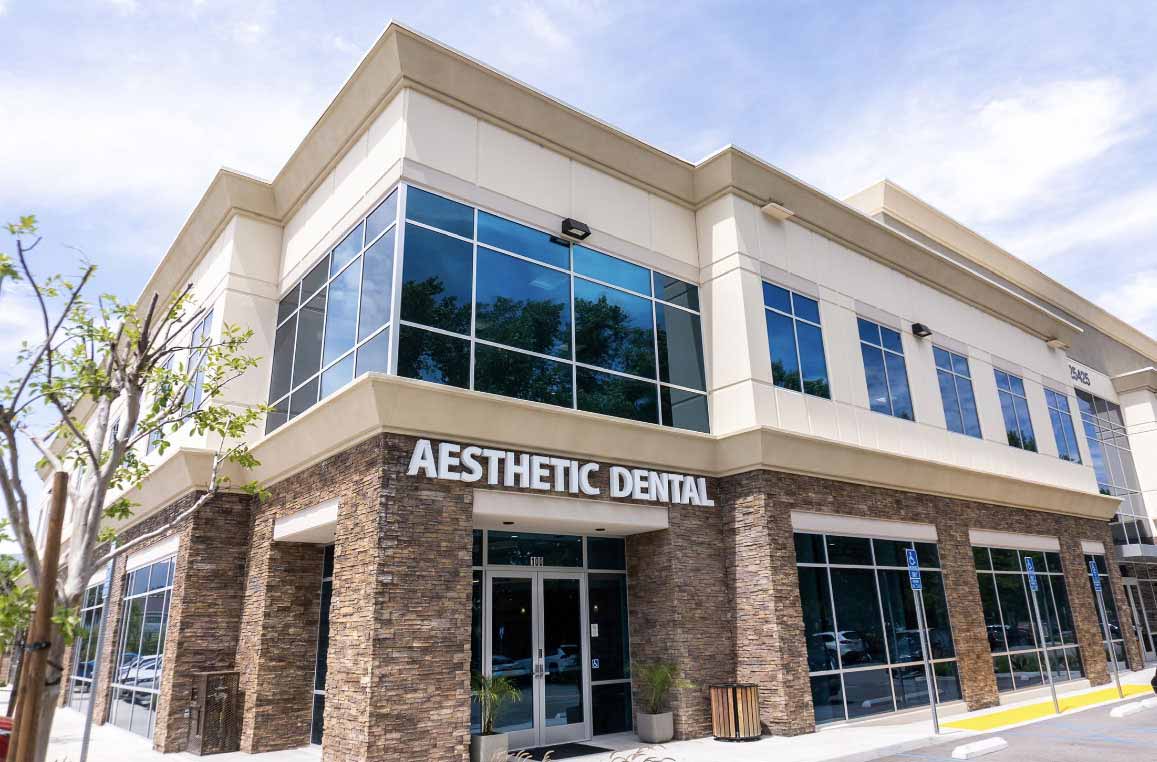 Single implant tooth replacement
At the same time when an implant is placed or after a period of healing, an abutment is fused to the implant. An abutment is a device that joins an implant to a custom-made crown. The crown is cemented onto the abutment to keep it in place.
Multi-teeth replacement: 2,3,4… implants and connected like a bridge
As with single tooth replacement, abutments can be placed on multiple implants after the healing phase is completed. In this case, the custom bridge is cemented onto the abutments.
Over dentures (Full dentures or partial dentures which are implant supported)
Looking like natural teeth, implant-supported full and partial dentures are designed to be comfortable and long lasting. Implant-supported full bridges and dentures are more stable and secure than conventional dentures, providing you with more natural biting and chewing capabilities.
We work with endosteal implants which are placed directly into the jawbone. Each implant holds one or more prosthetic teeth. We provide implants for: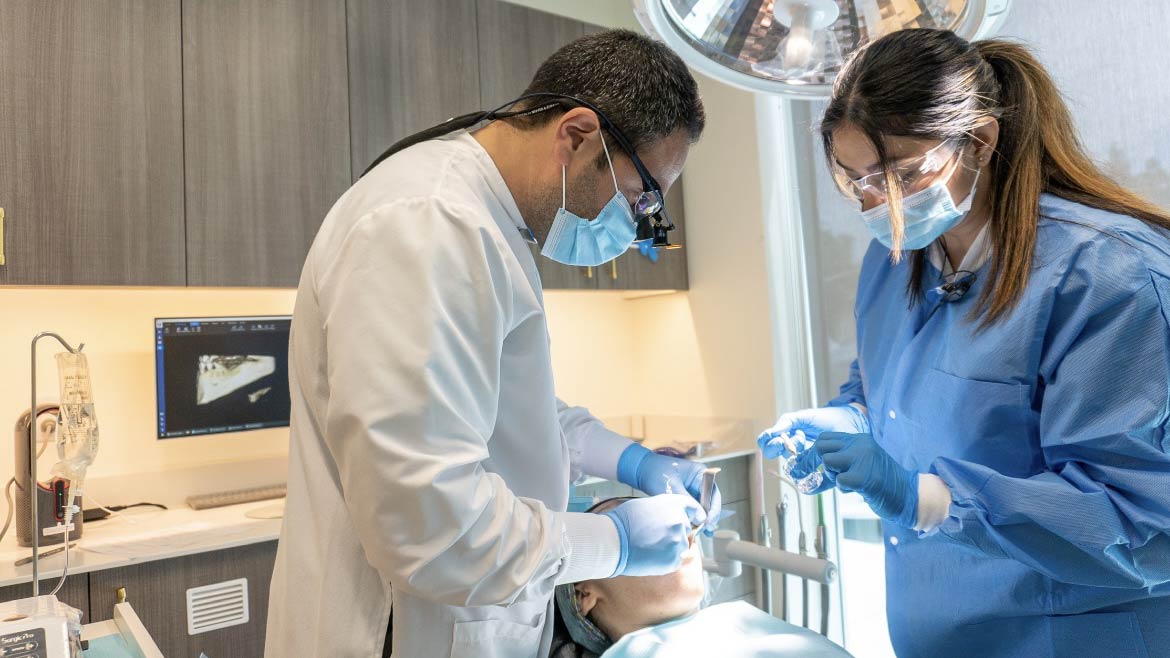 What Are Dental Implants Used For?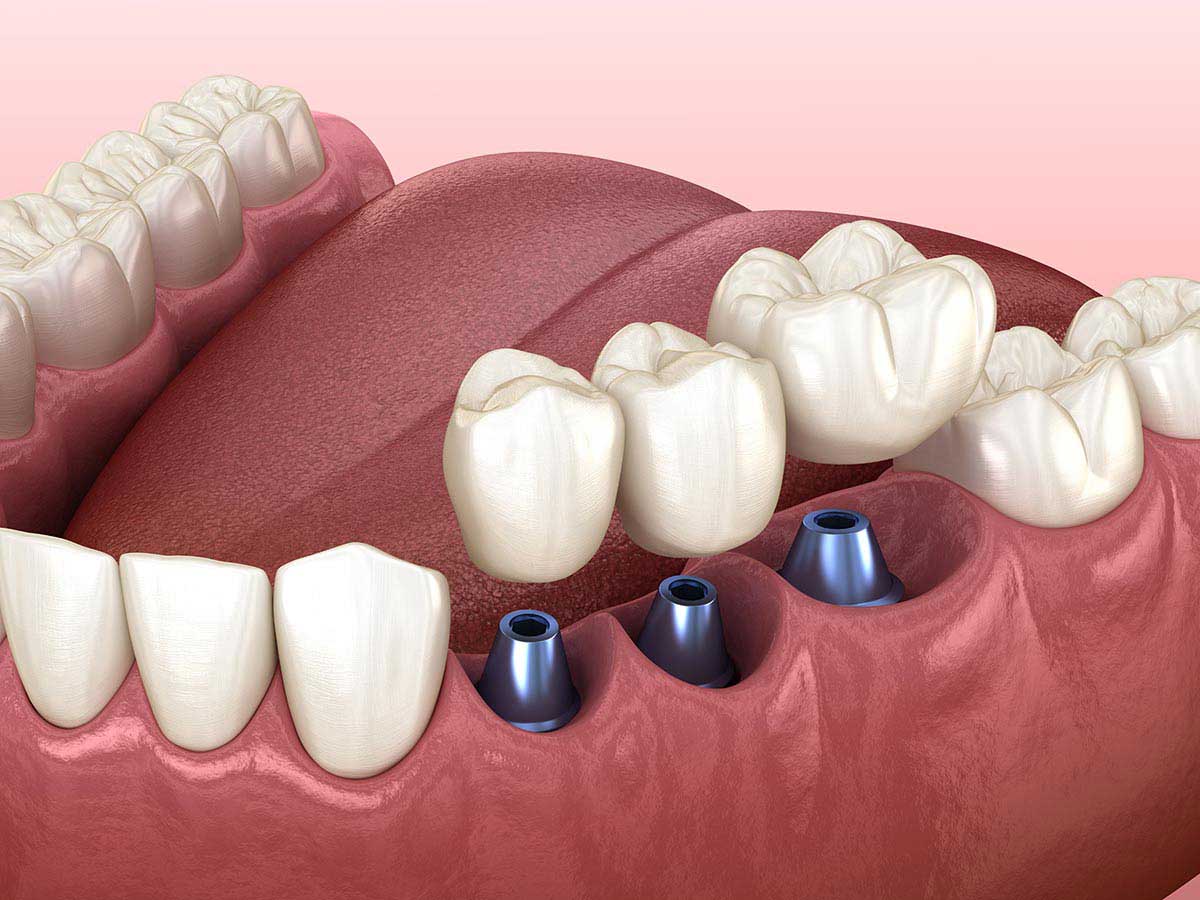 Comfort
Implants are very comfortable as they become part of your mouth. Dental implants reduce the risk of dentures moving, and in the case of missing teeth, provide a greater chewing surface which allows you to speak and eat with confidence and comfort.
Better Speech
With dentures, the teeth can slip and slide within the mouth and cause mumbling or slurring of speech. Implants allow you to speak in a relaxed and natural manner.
Improved Eating
Having missing teeth or using dentures could make the chewing process more difficult. Dental implants help to function similar to your own teeth and allow you to eat your favorite food without inconveniences and pain.
Aesthetics
Implants look like your natural teeth. They are integrated into your bone and become permanent. With the implants, no one will ever know that you have a replacement tooth.
Improved Oral Health
Dental implants don't require reducing other teeth and, as a consequence, more natural teeth are left intact. Implants also provide easier access between teeth, improving the overall oral hygiene.
Confidence
Implants allow you to speak and eat freely without worries about unexpected clicks and wobbles, unlike dentures. Moreover, implants eliminate the embarrassment of removing dentures as well as the need for messy glues and pastes to keep them in place. In short: Dental implants will give you back your smile and self-esteem.
Durability
Implants are very durable and with proper care can last a lifetime.
Dental implants are available for people of all ages except for growing children. The candidate for a dental implant should have good general and oral health. An adequate jaw bone is very important as the dental implant is integrated into the jawbone. For those who don't have a strong jaw, bone grafts or mini implants are also available. Healthy gums are another requirement for successful implant dentistry. People with periodontal disease more often experience complications. Bruxism (teeth clenching) is another contraindication to surgery, it could reduce the overall success of the implant treatment. Patients who smoke, suffer from chronic diseases such as diabetes or heart disease are evaluated individually.
Patients may experience some pain during the dental implant procedure. Most patients describe the process as being less painful than a tooth extraction and more like discomfort than typical pain. Local anesthesia is often used during the tooth implant. In most cases, patients can go back to their daily routines soon after dental implant surgery.
Tooth implants are a permanent solution to missing teeth and have become the standard surgical procedure for replacing teeth. This treatment will help you maintain healthy teeth and a beautiful smile for years to come. With proper care and maintenance, your tooth implants can last a lifetime.
Unfortunately, teeth bleaching techniques can only be used on natural teeth. We highly recommend getting your teeth whitened before scheduling your appointment for tooth implants. Since implants are stain resistant, this will be the best way to make sure you have your best smile in the future.
The good news is that no, tooth implants can't get cavities. While they are made of an artificial material that can't develop cavities, they still require dental care like regular brushing and flossing so the implant site stays healthy.
Since dental implants are not real teeth you won't have any feeling in the implant itself. You will, however, have feeling that comes from the surrounding gum tissue. So, dental implants don't feel the exact same as a natural tooth, which can be sensitive to things like heat, cold, and pressure. You'll need to rely on the gum tissue surrounding the implant to provide sensation, but once you've had them for a few weeks you won't notice they're there, just like wearing glasses.
It can be confusing to navigate what's covered by health insurance when it comes to dental work. The specifics of whether dental implants are covered by insurance depends on the plan someone has. We take most insurance plans, are here to work with you to understand what is covered, and offer 0% financing to help you get the treatment you need.
While dental implants are meant to be permanent and last for decades, smoking can hurt the success of dental implant treatment and increase the likelihood of dental implants failing.
Dental Implant Procedure
First, an x-ray is done to examine the condition of your gums and teeth. This is done to make sure that you are a good candidate for implants. At this time, we will go over all of the options available with you.
Next, a small channel will be made into the bone. This is where the titanium screw will be placed which will hold the tooth implant. Then a protective cover is placed on top so that the site of the implant can properly heal. Healing can take up to 6 months.
Once the tooth insert site has healed, the dentist will attach an abutment and a temporary crown to the implant. This temporary crown is used while your permanent crown is being created by the lab. Ordering and applying your permanent crown may take a few weeks depending on your individual case.
Post Operative Instructions
Dental Implants
The first and most important recommendation is not to not disturb the wounds. Avoid rinsing and touching the wound during the first first days after surgery. Be ready to feel a metal healing abutment stick out the gum.
Very important to start your antibiotics and completely finish all antibiotics prescribed to you.
Light bleeding is normal during the first 24 hours after the procedure. If you have excessive bleeding, use a gauze pad to stop oxygen delivery to the wound. If bleeding persists, call us immediately.
It is important to maintain a healthy diet which includes drinking a lot of fluids, avoiding hot food and beverages. Don't eat crunchy and hard food. During the first days after surgery, soft food (e.g. yogurt, mashed potatoes, oatmeal, soup, bananas, pudding, etc.) is preferablemoder.Try to chew away from the surgical area.
Gums' swelling is absolutely normal for up to 1-2 weeks, especially on 2-4 days after surgery. To minimize discomfort, apply ice bag on the cheek.
Unfortunately, almost all oral surgery is accompanied by some level of pain and discomfort. Once the local anesthetic wears off, take prescribed pain medications. For moderate pain you can use over-the-counter medicines, such as Ibuprofen. Don't hesitate to take the prescribed antibiotics: they help prevent infections.
Keeping proper oral hygiene is crucial. The day after surgery a salt water rinse should be used twice a day. Rinsing with warm salt water after each meal helps prevent infections and eases swelling. Brush your teeth and healing abutments as usual, but be gentle with the surgical areas. If you experience some oozing after brushing, apply gauze as described above to stop bleeding.
As for your physical activity, it is advisable to have rest for the first 24-48 hours after the procedure. During the healing process, bad breath is a common thing. Usually, implants are ready for restoration 4-8 months depending on the implant site. If you used to wear some prosthetic devices such as partial or full dentures, flippers, don't wear them at least 7 days after surgery. Discuss this issue with your dentist during the preoperative visit.
Maintenance
Teeth inserts need the same care as natural teeth. Keep proper daily hygiene, including brushing, flossing, and use of small bottle brushes (TePe brushes). Regular visits to your dentist are necessary to make sure that the implants' integrity is stable and everything is functioning properly for years to come.
Aesthetic Dental & Specialty Center features a comfortable relaxed atmosphere. Our friendly staff and hygienists help put our patients at ease — even the most nervous ones. Our Santa Clarita dentists also provide oral conscious and IV advanced sedation for those patients who need more help to relax.
Whether you need general dentistry services or you have more complex dental needs, our expert dental team serves patients of all ages, and we accept most dental insurance.
No matter where you're traveling from — Valencia or Stevenson Ranch — Aesthetic Dental & Specialty Center is here to serve you. Take a look at the areas we serve below and schedule a complimentary consultation today!