How Much Do All-On-4 Dental Implants Cost? A Comprehensive Guide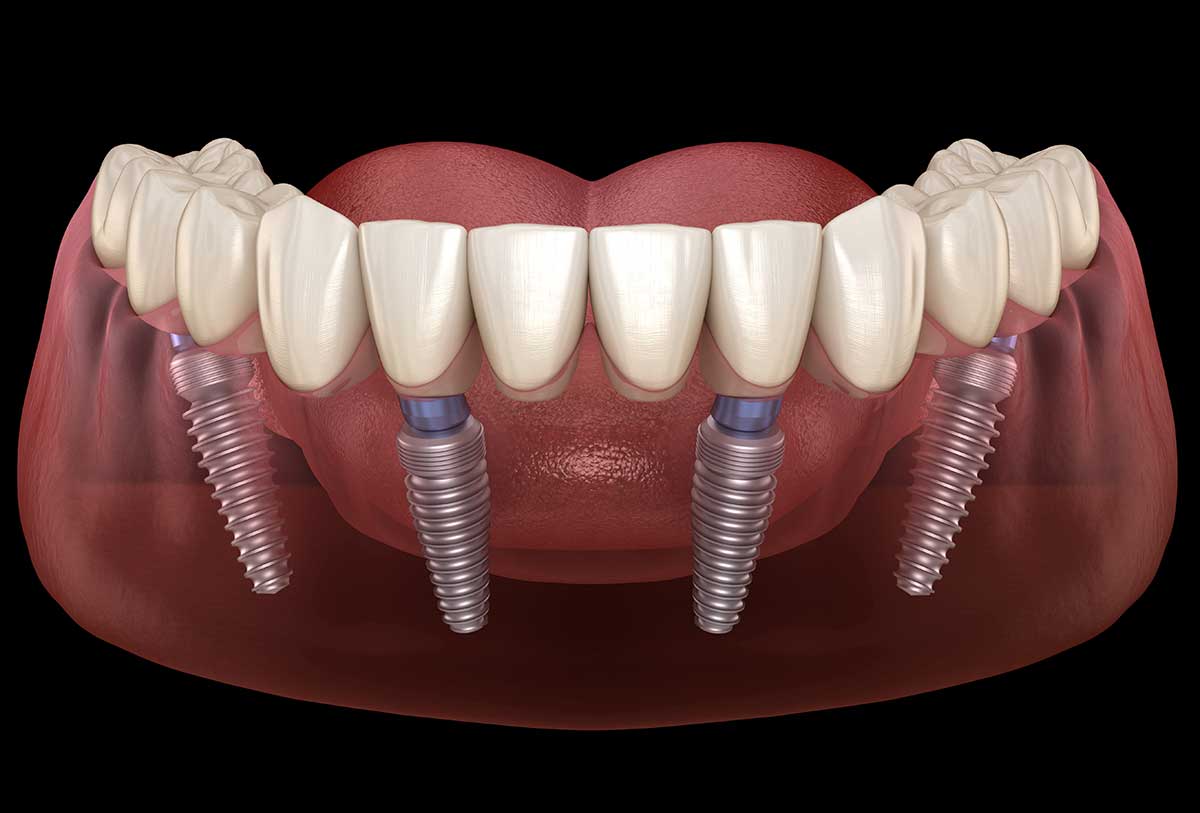 When replacing natural or missing teeth, all-on-4 dental implants are a common treatment choice due to their durability. Traditional dentures require an adhesive application; on the other hand, all-on-4 implants, are inserted directly into the jawbone for a more stable fit.
Overall Cost
All-on-4 implants typically cost between $25,000 and $30,000 for a full mouth and the average cost per arch is about $15,000, but the cost for each individual varies due to a number of factors.
How Insurance Impacts the Cost of All-On-4
The majority of dental insurance policies do not cover all-on-4 implants. To find out if all-on-4 implants are covered by your insurance policy, it's vital to contact your provider.
Medicaid and Medicare
All-on-4 implants are not covered by insurance providers like Medicare and Medicaid because implants are considered cosmetic surgery.
Financing
You can pay for all-on-4 implants using a variety of payment options. Numerous dental offices provide internal financing and payment plans. All-on-4 implant surgery can be performed with no down payment and no interest for up to 24 months at Aesthetic Dental because we provide 0% financing to our patients.
Determining Costs for All-On-4 Implants
The type of material utilized, the number of implants required, and the dental office's location are a few variables that determine the price of all-on-4 implants. To determine if all-on-4 implants are the best course of treatment for you, your dentist will first examine your mouth. If so, they will create a treatment plan after taking X-rays, CT scans, and impressions of your teeth. Your dentist will be able to provide you with a more precise cost estimate once the treatment plan has been created.
Standard Implants vs. All-On-Four
All-on-4 implants typically cost more than regular dental implants. This is due to the fact that all-on-4 implants are more invasive and carry a higher risk of complications. All-on-4 implants, on the other hand, are a more long-term fix and, with proper maintenance, can last a lifetime.
Cost-Affecting Factors
The price of all-on-4 implants depends on factors such as:
Sedation
The cost of anesthesia for the all-on-4 operation is included in the cost of the implants.
How Many Implants Are Needed
The price depends on how many all-on-4 implants you require. The price decreases with fewer implants.
Type of Implant Material Chosen
The price will also vary depending on the implant material you select. Three distinct materials—acrylic, composite, and porcelain—are offered for All-on-4 implants. The most affordable alternative is acrylic all-on-4 implants, while the most expensive are porcelain all-on-4 implants.
Other factors:
Bone Grafting
Dental Health
Placement of Implants
Tooth Replacement
Gum Disease
Improve Your Smile with All-On-4 Implants at Aesthetic Dental
Utilize all-on-4 dental implants to improve your smile. The all-on-4 dental implants cost may seem high, but the long-term benefits are worth the investment. Contact us to schedule a consultation and learn more about all-on-4 implants.
Aesthetic Dental & Specialty Center features a comfortable relaxed atmosphere. Our friendly staff and hygienists help put our patients at ease — even the most nervous ones. Our Santa Clarita dentists also provide oral conscious and IV advanced sedation for those patients who need more help to relax.
Whether you need general dentistry services or you have more complex dental needs, our expert dental team serves patients of all ages, and we accept most dental insurance.
No matter where you're traveling from — Valencia or Stevenson Ranch — Aesthetic Dental & Specialty Center is here to serve you. Take a look at the areas we serve below and schedule a complimentary consultation today!