How to Clean Invisalign and Clear Aligners (The Top 5 Ways)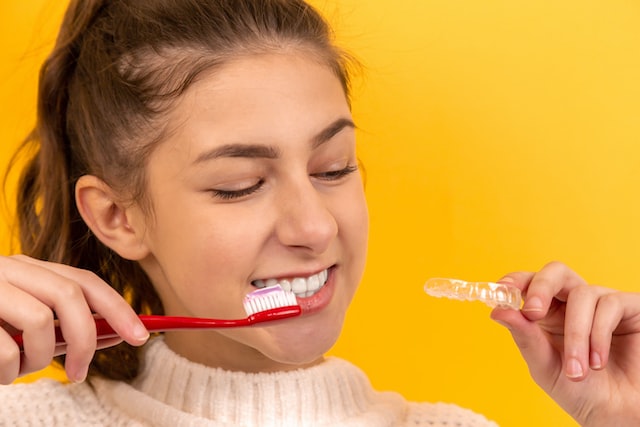 Whether you wear traditional braces or Invisalign and clear aligners, proper oral hygiene is essential for maintaining a healthy mouth. Not to mention, it's important to keep your aligners clean in order to maintain the best smile possible.
What is Invisalign?
Invisalign is a type of orthodontic treatment that involves wearing a series of clear, custom-made aligners to gradually move teeth into the desired position. Clear aligners are made from moldable plastic and are virtually invisible, so they provide an aesthetic alternative to traditional metal braces. In addition to offering a cosmetic benefit, Invisalign aligners are removable, so it's easy to clean and take care of your teeth.
Why is it Important to Clean Your Invisalign Retainer?
Keeping your Invisalign and clear aligners clean is essential for ensuring that the treatment works properly and that bacteria doesn't build up on the surface of your teeth or gums. Bacteria can cause bad breath, staining, and cavities, as well as gum disease and tooth decay. Proper cleaning also helps keep your retainers from becoming discolored or brittle, and it helps them last longer.
Top 5 Cleaning Methods for Invisalign
Cleaning your Invisalign or clear aligner is essential for keeping bacteria at bay and making sure that you get the most out of your orthodontic treatment. Here are the top 5 methods for cleaning your retainers.
1. Invisalign Cleaning Crystals
Invisalign cleaning crystals are a quick and convenient way to keep your aligners free from bacteria and plaque. Simply add the crystals to lukewarm water, mix, and soak your retainers in the solution for 15 minutes. The cleaning crystals will help remove food particles, destroy odor-causing bacteria, and prevent discoloration of your aligners.
2. Antibacterial Soap or Denture Cleaner
Regular antibacterial soap is effective for cleaning Invisalign and clear aligners, as long as you use a soft-bristled toothbrush. Many dentists also recommend soaking your retainers in a denture cleaner for an extra thorough cleanse. Denture cleaners will penetrate deeper into the crevices of your aligners and help remove any residual plaque or bacteria that may be lurking.
3. Mouthwash
Mouthwash is another safe and effective way to keep your Invisalign or clear aligners free from bacteria. Simply mix a small amount of mouthwash with lukewarm water, soak your retainers for 15 minutes, and then rinse thoroughly with plain water.
4. Toothbrush and Toothpaste
Brushing your Invisalign or clear aligners with a soft-bristled toothbrush and toothpaste is an easy and effective way to keep them clean. Simply brush the entire surface of your retainers with gentle strokes, making sure to get into all the crevices and grooves. Rinse off the toothpaste thoroughly before putting the retainer back in your mouth.
5. Baking Soda and Hydrogen Peroxide
Baking soda is a mild abrasive that is great for removing surface stains from your aligners, while hydrogen peroxide acts as an antibacterial agent to help kill off any bacteria that may be present. To use this cleaning method, combine equal parts of baking soda and hydrogen peroxide with a small amount of lukewarm water. Soak your retainers in the solution for 15 minutes and then rinse off thoroughly with plain water before putting them back in your mouth.
Transform Your Smile with the Orthodontic Center of SVC
As top Santa Clarita & Valencia orthodontists, we offer a wide range of orthodontic treatments, including Invisalign in Santa Clarita and clear aligner therapy. Our experienced team of experts will work with you to create a personalized treatment plan that fits your needs and lifestyle. Contact us today to learn more.
Aesthetic Dental & Specialty Center features a comfortable relaxed atmosphere. Our friendly staff and hygienists help put our patients at ease — even the most nervous ones. Our Santa Clarita dentists also provide oral conscious and IV advanced sedation for those patients who need more help to relax.
Whether you need general dentistry services or you have more complex dental needs, our expert dental team serves patients of all ages, and we accept most dental insurance.
No matter where you're traveling from — Valencia or Stevenson Ranch — Aesthetic Dental & Specialty Center is here to serve you. Take a look at the areas we serve below and schedule a complimentary consultation today!